Horrible Geography of the World wins an award!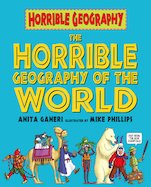 Quirky facts make geography fun
The Geographical Association have given Horrible Geography of the World by Anita Ganeri a Highly Commended Award for its great contribution to school geography. The judges loved the fact that the book was full of 'quirky facts' as well as loads of useful and interesting information about the world we live in.
Believe it or not, this is the second book in the Horrible Geography series to have won an award! Isn't it time you checked out what the hype is about?