International School Book Clubs
We are so pleased to be partnering with Baker Books to ensure that your school continues to receive your school book club. Baker Books and Scholastic International Book Clubs have been working with International Schools for many years and we hope you'll be delighted with the range of books and service we offer.
How your Book Club works now
You can choose to
run your Book Club up to five times a year.
Each time we'll send you your new Book Club leaflet full of the
best children's books at great prices.
The books we offer are
all read and carefully chosen by our Book Club editors
to encourage children to read for pleasure – and to keep them reading throughout their school life.
Your new Book Club leaflet

You will now receive
one Book Club leaflet, instead of two.
They come in a fantastic
new flip format
– one half of the leaflet is dedicated our
0-6 book range (Mini)
and the other half is aimed at our
7-14 list (XD).
You can of course find even more books for 0-18 online at
isbc.scholastic.co.uk
.
Loyalty and Rewards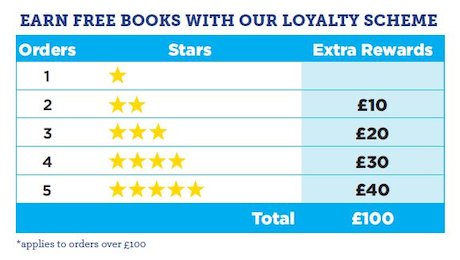 With your new Book Club you'll receive
20% of your order back in free books for your school
and will also benefit from our
Loyalty Scheme, which enables you to earn an extra £100 worth of books each year.
You will receive Rewards for every two or more Book Clubs you run.* On top of that, you can also
access a new Rewards Catalogue online
, which features hundreds of specially selected books and teacher resources to boost your classroom and library collections.
Who to contact
If you have any questions at all, please don't hesitate to email us at isbc@scholastic.co.uk or call the friendly customer service team on +44 1993 893474 if you need help getting started.

Thank you for continuing to promote a love of reading in your school. We look forward to working with you in the new school year.