Winner of the Scholastic Business School of the Year Award announced
Woodfield Junior School has been chosen as the Scholastic Business School of the Year 2011-12 in a national competition run by Scholastic Book Fairs.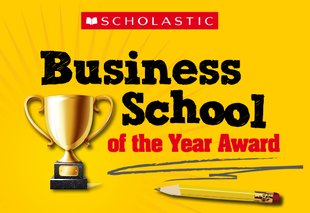 Hundreds of pupils in schools across the UK took part by volunteering to plan, promote and run their Scholastic Book Fair as an enterprise scheme and submitting a report about the successes and challenges they faced.
The award, in its first year, was created to recognise the highest level of enthusiasm, effectiveness and innovation in a school running their Scholastic Book Fair as a 'Scholastic Business School' project in which the pupils took the reins.
Five entries were selected as finalists: Woodfield Junior School in Wolverhampton, St Peter's R. C. Primary School in Leicestershire, St Barnabas C. E. Primary School in Yorkshire, New Pasture Lane Primary School in Yorkshire and Charleston School in Aberdeen.


On Wednesday 17th October the panel of judges assembled at Scholastic HQ and all commented on the high standard of all entries – but the final decision was unanimous.
Woodfield Junior School was chosen as the winner for the ingenuity and commitment of their volunteers and the vast range of activities that were organised, which included:
Recruiting a team of pupil volunteers called the 'Tenacious Ten'

Job interviews attended by local professionals from different areas of business

An induction day where the volunteer team visited businesses from an art gallery to McDonald's

Themed, fancy dress days leading up to the Book Fair including an animal day, a pyjamas day, a geek day and a groovy day

A week of visits from VIPs including Baroness Heyhoe Flint, Superintendent Mark Payne, Judge Helen Hughes and Cardio Surgeon Dr. Saleem

A grand opening ceremony attended by the Lord Mayor of Wolverhampton

Creation of a website to promote the Book Fair to family and friends
The huge effort paid off with Woodfield Junior School's Book Fair returning its best results since 2007, earning more than £900 in free books for the school.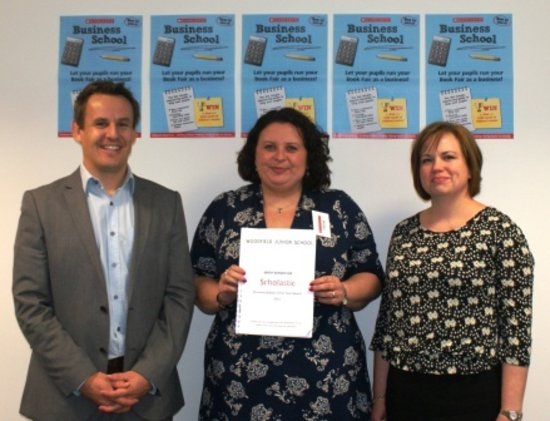 Here's what the judges has to say about the winning entry:
Victoria O'Neill, teacher and inspiration for the Business School project, found that the winning entry stood out because of its attention to detail. "This has obviously been the culmination of many weeks of preparation and hard work involving the whole community.
"The vision of staff and the drive and ambition of the pupils was apparent but what impressed me most was the team's ability to solve problems and demonstrate reflective learning. This project has clearly met its curriculum goals of developing teamwork and shrewd business acumen in a real world context.
"Having delivered an enterprise book fair myself for many years, I know that achieving success requires whole-school support, perseverance, resilience and above all, enthusiasm. Many other schools can take inspiration from the staff and pupils of Woodfield Junior who have modelled the standard for future entries."
Nicola Dixon, Finance Director at Scholastic, commented that "the winner stood out by its use of technology, engagement with the whole community and passion for books and reading."
Steve Thompson, Co-Group Managing Director at Scholastic, said "the standard of entry far exceeded our expectations and we have all been hugely impressed by the children's level of commitment and entrepreneurism."
Consultant judge Dean Walton, UK Director of the Year for Leadership in Corporate Responsibility and two-time participant on TV's Dragon Den, "thought that the Woodfield Junior School enterprise project was absolutely fantastic. They have definitely got some budding entrepreneurs in year 5. Hopefully we'll see some of them on Dragons' Den one day!"


As Scholastic Business School of the Year 2011-12, Woodfield Junior School will receive an iPad, £500 worth of children's books, an engraved trophy and certificates for all of their pupil volunteers, to be awarded in a prize-giving ceremony.
Runner-up position was awarded to St Peter's R. C. Primary School with St Barnabas C. E. Primary School, New Pasture Lane Primary School and Charleston School all highly commended.
Longlisted schools were: Churnet View Middle School, Ravenshead C. E. Primary School, Strike Lane Community Primary School, Chace Community School, Claygate Primary School, Hayes School, St Peter's R. C. Primary School and Saint George's Hanover Square Primary School.
The Scholastic Business School of the Year Award 2012-2013 is now open for entries.

Find out more about Business School
View Woodfield Junior School's website to promote the Book Fair