Scholastic UK to provide every primary school with a free copy of the National Curriculum 2014
Press Release
This year, for the first time ever, the Department for Education (DfE) has announced it will release the new National Curriculum in digital format only. In response, Scholastic UK, part of the world's largest publisher and distributor of children's books, today confirms it will make a printed copy of the 2014 National Curriculum in England available to every primary school in England at the start of the coming autumn term.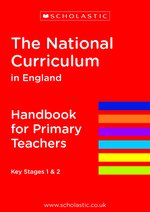 Although the use of digital and e-books is ever growing, in children's books and educational publishing, the onus is still on print, with teachers still assessing pupils using pen and paper and working in class from a mix of printed and digital materials. Scholastic UK prides itself on its strong working relationship with teachers and has created the hard copy format in direct response to teachers' needs.
Catherine Bell, MD of Scholastic UK comments; "Scholastic is dedicated to supporting teachers and in providing the best possible resources for children, parents and teachers. Having easy access to a copy of the curriculum is vital for the teachers we work with, to annotate and use as a living planning guide to support them in the classroom. As a thank you to teachers we want every school to have an accessible printed copy for use in the staffroom."
The new curriculum is available from September 2013 and schools can choose to continue to teach the current programmes of study or use the flexibility of disapplication to adapt their curricula, ensuring they can plan appropriately before the new curriculum becomes compulsory from September 2014. Teachers can sign up for their copy of the 2014 National Curriculum in England at www.scholastic.co.uk/nationalcurriculumoffer and a free copy will be issued to schools at the start of the new term in September. Additional copies will be available to purchase at the usual price of £24.95.