Top 8 ways to accept payment at your Book Fair – and one to avoid
Parents visiting your Book Fair can pay safely and securely for their books through a variety of methods: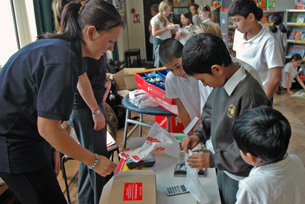 1. Cash – that last £1 coin from the bottom of a pocket or the corner of a purse doesn't need to go to waste!
2. Cheques – these need to be made payable to the school, not Scholastic.
3. Phone Payment – parents can now pay for purchases with their debit/credit card over a secure payment telephone line. Find out more.
4. Book Fair Gift Vouchers – save even more money at your Book Fair with gift vouchers. Simply buy online to save 20% and ask parents to take the printout to your Book Fair. Find out more.
5. £1 World Book Day tokens – we accept these only at certain times of the year. Speak to your Book Fair Co-ordinator for terms and conditions.
6. National Book Tokens – these can be spent at your Book Fair but no change can be given. Speak to your Book Fair Co-ordinator for terms and conditions.
7. ParentPay – if your school has ParentPay set up, you are welcome to ask parents to pre-pay for books to your school's own account.
8. Debit/credit card – this is only available if a chip and pin machine is provided for your school. The payments come directly through to Scholastic.

And one to avoid: Debit/credit card details must not be sent through the post under any circumstances. We no longer supply printed debit/credit card slips so if you have any from a previous Book Fair, please dispose of them. Speak to your Book Fair Co-ordinator if you have any questions about this or any kind of payment.

Put these tips into practice and your Book Fair will be flying!

Similar Posts
Book Fair Gift Vouchers are the simple, secure way to ensure a child gets the books they want when the Book Fair arrives and are perfect if a parent can't make it to the Book Fair.

Every Scholastic Book Fair features over 200 titles, chosen by our expert book buying team. Here, we discuss some of the highlights from the books available at Fairs this term.

Earlier this year, we asked Primary school pupils from all over the UK and Ireland to send us pictures or stories of new superheroes that they designed. Check out just a few of our favourites!
All categories