Festive Food
With Christmas just around the corner, we're buying boxes and boxes of mince pies and finding old family recipes in preparation for all the cooking on Christmas Day. While here in the UK we tend to stick to our traditions of turkey roast dinner and Christmas pudding, we can't help but wonder about festive treats from around the world.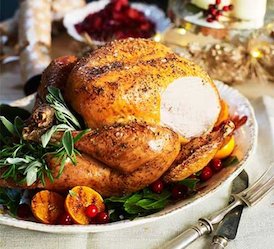 There are some that are similar to our own, like Brazil's Christmas turkey dinner or Spain's Pavo Trufado de Navidad (stuffed turkey), but read on to find out about some of the festive foods – not necessarily Christmas foods – eaten around the world at this time of year.
Israel – Latkes
For all you potato lovers out there, this festive food will definitely interest you. Part of Hanukkah tradition, latkes are fried potato pancakes cooked in oil – which represents the Second Temple that kept the Menorah burning with oil for eight days. Fried doughnuts are also eaten around the holiday season.
Venezuela – Hallacas
The traditional Christmas food in Venezuela is hallacas, which are capers, raisins, peppers and beef, pork or chicken stew wrapped up in a plantain leaf parcel. They certainly look festive as they take the shape of Christmas gifts.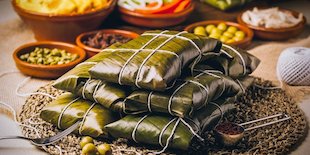 Sweden – Saffron buns
For a sweeter snack at Christmas, the Saffron buns from Sweden are a common treat during the holiday season. The 'S' shaped bun is full of Christmas flavours like cinnamon, nutmeg and sultanas. These buns are also popular in Cornwall, where they're known as 'revel buns', and in the Netherlands.
Greece – Melomakarona
I don't know about you, but these Greek cookies sound like something to try whether it's Christmas or not! They contain orange-zest and are dipped in honey, topped with walnuts. They are apparently similar to baklava, and are a traditional dessert served during the Christmas season.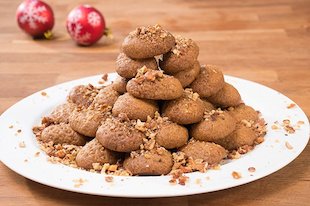 What are your students' favourite festive foods?