Interview with a Book Fair Coordinator
How long have you been working as a Book Fair Coordinator at Scholastic?
I have been working at Scholastic for a year and a half now which has flown by!
What is your favourite part about working in the Book Fairs Department?
Apart from all the lovely people I work with at Scholastic, I have to say my favourite part about working in the Book Fairs department is getting to speak with schools and work with them to make sure they have successful events and earn lots of free books and resources with Scholastic Rewards.
What is a 'day in the life' of a Book Fair Coordinator?
Once we arrive in the morning we usually grab a drink, get set up and then get to work phoning schools who are about to have their Book Fair or have just finished their fair. Throughout the day I speak to lots of schools to work with them or get feedback from them. I love giving them the good news about how much they have earned in rewards!
What would you say to a teacher or school librarian thinking about running a Book Fair for the first time?
I would say from talking to schools that the Book Fair is definitely worth running! It not only earns Scholastic Rewards that the school can spend on resources, but also encourages students to read by picking up a book that they might not otherwise have access to.
Also the books are curated by experts to make sure that every child is able to interact and enjoy the Book Fair. We cover all reading ages and deliver the best range of the latest and classic titles.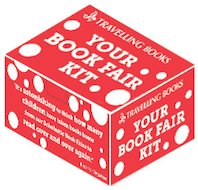 So what would your top tips be to a first time organiser?
I must say that my first top tip would be to really advertise and utilise the Book Fair planning kit which is a very useful tool and should be the first point of call when planning the fair. The Planning Kit is a bright red spotty box that usually arrives at a school three weeks before their Book Fair begins.
Inside the kit is everything you need to promote the Book Fair such as posters and leaflets but also a goal chart which organisers can put up to share their target with the students and parents and this doesn't always have to be money! I find the most successful schools set a 'books sold target' and it is always met especially when the goal is shared throughout the school.
Also mentioning the Book Fair in assembly and reading snippets of some of the popular books always works really well to make sure every student is excited for the Fair to come.
Second of all I would say make sure that you make use of the £25 worth of free competition vouchers that are included in the Resource Pack, which you can download online. I have heard so many good competition ideas and it's always great to reward some students with a free book while creating excitement about the upcoming Book Fair.
My last top tip would be to let parents know about the Gift Vouchers they can pre-purchase online. I have had such a great response from schools with these as they give parents an additional 20% to spend at the Book Fair and also saves having to bring money into school!
How can organisers make each Book Fair amazing?
I suggest to lots of my schools to really utilise the competition vouchers which make sure that each Book Fair is a different event. I would always encourage organisers to speak with their Book Fair Coordinator about what events are going on around the time they hold their Book Fair as we have the details of so many reading and education events that organisers can use. We love to help you out, so never be afraid to give us a ring to ask for advice!

What is something about Book Fairs that organisers might not know about?
I think most organisers should know their Book Fair Coordinators are there to help them every step of the way not just before and after. We are here to help and work with teachers who organise Book Fairs to create the best events whether that be talking them through the promotional materials, taking their orders for extra copies of books or helping them come up with competition ideas.
Also many organisers won't know about the Book Bank scheme which is where students can bring in some pennies each week to save up for a book when the Book Fair comes in. It's a really great way to teach children about money management and saving while at the same time allowing students to be able to choose a book when the Book Fair comes.
What is your favourite book on the Book Fair at the moment?
I have to say my favourite book on the Book Fair at the moment is Ten Fat Sausages by Tor Freeman and Michelle Robinson. We read it the other week in the office and it got a great response – definitely one to have a look at when the Book Fair comes into school!
Similar Posts
We're here to help children learn to read and love to read, and that's why we're proud to donate over £9 million to schools in free books every year. Find out more about how you can earn free books for your school.

Scholastic Book Fairs remain a fantastic way to connect children to books they'll love and raise essential resources for your school. This term, we have implemented plans to help you run your Fair as safely as possible.

Did you know, if you're holding a Scholastic Book Fair, your pupils can use their World Book Day £1 tokens?
All categories