Supercompetition superheroes
Our Favourite Superhero Designs
Earlier this year, we asked Primary school pupils from all over the UK and Ireland to send us pictures or stories of new superheroes that they designed. We received an overwhelming number of entries, all unique, creative and bursting with super-energy. Check out just a few of our favourites below! We hope you will enjoy them as much as we did.
High Five
Bethany from Witney
Bethany's 5-strong super group roams the world battling 'their worst enemy and evil mastermind, the Diabetic Demon'. The team is made up of representatives of Dairy, Fat, Protein, Carbohydrates and Fruit & Veg, namely Mrs. Milk, Epic Egg, Brainy Bread, Peas and Super Sausage. These superheroes combine their powers of deafening opera singing, problem-solving, code-cracking, punching and air-gliding to defeat any villain that stands in their way.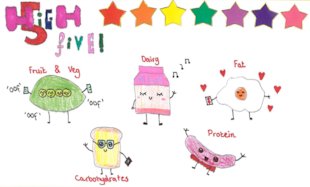 Super Narwhal
Lennon from Saltburn-by-the-Sea
Lennon sent us his Super Narwhal, a true champion of the oceans, who uses its tusk to clean the oceans and 'save creatures being hurt by plastic'. Super Narwhal is also equipped with a crucial high-tech gadget, a watch featuring a plastic finder, which helps him detect plastic floating in the ocean. 'Bottle by bottle,' writes Lennon, 'he saves the world'.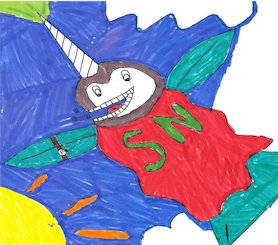 Lily Leaf
Mija from Bellingham
Lily Leaf is a superhero whose powers include controlling the weather, growing plants and talking to animals. Lily stands up to bullies, most importantly Terrifying Titan, a SuperBully.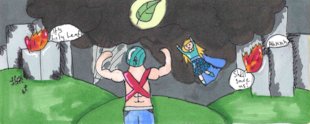 Uni-Dino-Girolphin
Fiona from Drogheda
Fiona's creation is part unicorn, part giraffe, part dolphin, part dinosaur, and all parts superhero. The Uni-Dino-Girolphin is able to read minds, fly and teleport, but it also owes much of its success to its trusty caped sidekick, Bunnydude. Bunnydude rides on the back of the Uni-Dino-Girolphin, nestled among its dinosaur spikes, though it, too, can fly as well as hop! Don't let their cuteness fool you – these two will save the world!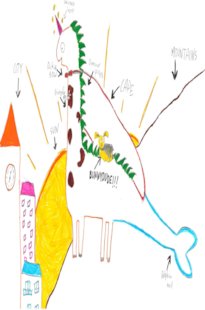 Super Sweet Hearts
LeMaya from Sheffield
LeMaya has sent us a wonderful poem about the Super Sweet Hearts, an unbeatable trio comprised of Karrdi, Tafathe and Viola, whose magical abilities include sugar and sweetness. In the town of Sweeten, these three sisters fight off enemies that include 'an ugly huge monster with yellow claws / & slimy tentancles and humongous paws'. When not fighting crime, these three are regular children, and you'll never guess how they got their powers – pastry!
Here's the story of a crime-fighting trio
Whose parents owned a shop of pastry dough
One day when starving they hungrily snacked on
A pastry with the label seemingly gone
They started to feel a magic sensation
Superhero talent: it was time for celebration!
The Story Within
Luke from Luton
Luke has designed a phenomenal series of characters along with a story, 'The Story Within'. Luke's creations include Michael Recycle, Greedy Greg and Bob the Brick. Between them all they have a range of powers – Greedy Greg can create food out of thin air, Michael Recycle's power is to magnetise all things recyclable, and Bob the Brick can build houses anytime, anywhere. A useful set of friends to have!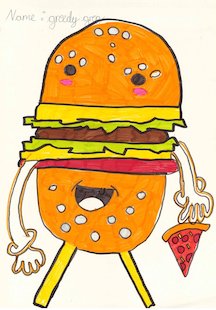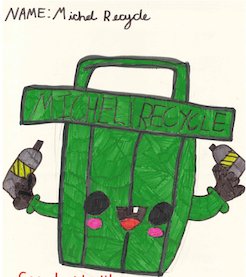 Lightning Man
Liam from Dublin
The story of Lightning Man begains as Luke's character Josh was walking in the park. He witnessed lightning striking the ground, and went over to see if he could touch it. He fainted, but woke up to find out that he could shoot out lightning. Of course, no superhero of such calibre can do without an amazing, awe-inspiring suit, so Lightning Man is all geared up in a fantastic suit of Liam's own design.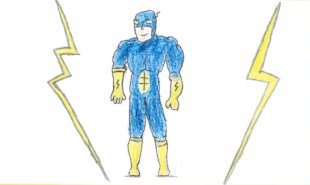 Book Boy
Joshua from Harlow
Book Boy possesses delightful powers that we wish we could also have! With his magical transformer ring, Book Boy 'can turn into any book character in the galaxy. From Mr Stink to make the bullies go away […] to Elsa, who can give the locals some ice cubes when they are under the hot sun', Joshua writes.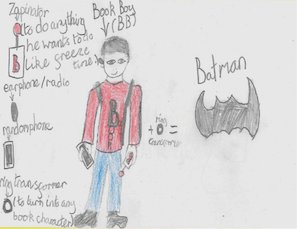 Egg Man
George from Drogheda
Before turning into an egg during an experiment, Egg Man was Gary, a scientist. He can shrink to the size of an egg, as well as break his own shell and re-grow it. Despite his humble (and admittedly adorable) appearance, Egg Man is a mighty superhero who fights crime, stopping many a robbery in his city. He even designed himself a super suit, and eventually grows arms!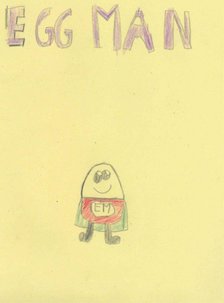 Many thanks to everyone who entered the competition. If your creativity is still buzzing, why not have a go at one of our other competitions?
Similar Posts
Mitchell, a Scholastic Book Fair Coordinator, gives us some tips and advice about the Book Fairs and also some information about the role of a Coordinator.

We aim to provide you with all the books you'll need to satisfy every child at your Book Fair, but sometimes popular books sell out. What can you do to avoid disappointing the next child who arrives at the Book Fair,...

Lucas Maxwell, Librarian at Glenthorne High School, gives his top five ways to run a brilliant Book Fair and how to get pupils engaged and involved with reading.
All categories