Top 8 ways to accept payment at your Book Fair – and one to avoid
Parents visiting your Book Fair can pay safely and securely for their books through a variety of methods: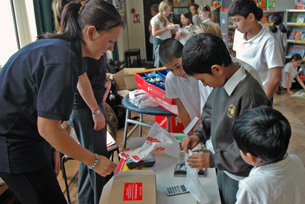 1. Phone Payment – parents can pay for purchases with their debit/credit card over a secure payment telephone line. Find out more.
2. Book Fair Gift Vouchers – a great alternative to cash or card payments at your Book Fair. Simply buy online and ask parents to take the printout to your Book Fair. Find out more.
3. Cheques – Please make cheques payable to the school, not Scholastic.
4. ParentPay – if your school has ParentPay set up, you are welcome to ask parents to pre-pay for books to your school's own account.
5. Debit/credit card – this is only available if a chip and pin machine is provided for your school. The payments come directly through to Scholastic.
6. National Book Tokens – these can be spent at your Book Fair but no change can be given. Speak to your Book Fair Co-ordinator for terms and conditions.
7. £1 World Book Day tokens – we accept these only at certain times of the year. Speak to your Book Fair Co-ordinator for terms and conditions.
8. Cash – during the COVID-19 pandemic please encourage cashless payment wherever possible.

And one to avoid: Debit/credit card details must not be sent through the post under any circumstances. We no longer supply printed debit/credit card slips so if you have any from a previous Book Fair, please dispose of them. Speak to your Book Fair Co-ordinator if you have any questions about this or any kind of payment.

Put these tips into practice and your Book Fair will be flying!

Similar Posts
We're here to help children learn to read and love to read, and that's why we're proud to donate over £9 million to schools in free books every year. Find out more about how you can earn free books for your school.

Scholastic Book Fairs remain a fantastic way to connect children to books they'll love and raise essential resources for your school. This term, we have implemented plans to help you run your Fair as safely as possible.

Did you know, if you're holding a Scholastic Book Fair, your pupils can use their World Book Day £1 tokens?
All categories