Top 8 ways to accept payment at your Book Fair – and one to avoid
Parents visiting your Book Fair can pay safely and securely for their books through a variety of methods: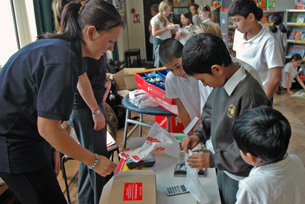 1. Cash – that last £1 coin from the bottom of a pocket or the corner of a purse doesn't need to go to waste!
2. Cheques – these need to be made payable to the school, not Scholastic.
3. Phone Payment – parents can now pay for purchases with their debit/credit card over a secure payment telephone line. Find out more.
4. Book Fair Gift Vouchers – save even more money at your Book Fair with gift vouchers. Simply buy online to save 20% and ask parents to take the printout to your Book Fair. Find out more.
5. £1 World Book Day tokens – we accept these only at certain times of the year. Speak to your Book Fair Co-ordinator for terms and conditions.
6. National Book Tokens – these can be spent at your Book Fair but no change can be given. Speak to your Book Fair Co-ordinator for terms and conditions.
7. ParentPay – if your school has ParentPay set up, you are welcome to ask parents to pre-pay for books to your school's own account.
8. Debit/credit card – this is only available if a chip and pin machine is provided for your school. The payments come directly through to Scholastic.

And one to avoid: Debit/credit card details must not be sent through the post under any circumstances. We no longer supply printed debit/credit card slips so if you have any from a previous Book Fair, please dispose of them. Speak to your Book Fair Co-ordinator if you have any questions about this or any kind of payment.

Put these tips into practice and your Book Fair will be flying!

Similar Posts
Mitchell, a Scholastic Book Fair Coordinator, gives us some tips and advice about the Book Fairs and also some information about the role of a Coordinator.

We aim to provide you with all the books you'll need to satisfy every child at your Book Fair, but sometimes popular books sell out. What can you do to avoid disappointing the next child who arrives at the Book Fair,...

Lucas Maxwell, Librarian at Glenthorne High School, gives his top five ways to run a brilliant Book Fair and how to get pupils engaged and involved with reading.
All categories