Scholastic Spotlight: Poppy Pym and the Pharaoh's Curse
About Laura Wood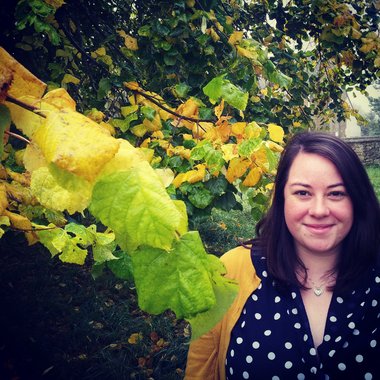 Roll up, roll up and meet Laura Wood, the author of the spellbinding Poppy Pym and the Pharaoh's Curse, winner of the Montegrappa Scholastic Prize for New Children's Writing 2015!
We caught up with Laura and asked her some questions about her debut novel, and what it's like to be an author. Take a look at her answers below!
1. Tell us about the character of your debut book, Poppy Pym. What inspired you to write her?
Poppy Pym is a girl that comes from an unusual background and who finds herself in a situation where she is a bit of a fish out of water. Raised by an eccentric circus family she has skills and talents that the average eleven year old doesn't have (she's a gymnast, a trapeze artist, a juggler) but she also finds it difficult to fit in and to make friends her own age. I think I was inspired to write her by my niece, Imogen, who is 9. I wanted to write about a young girl who was bright and capable and kind, someone who Imogen could relate to and admire. I think Poppy is all of those things.
2. Poppy grew up in a circus. Is that something you always wish you did?
Of course! I almost think of Poppy's circus skills as super powers – she can do things that most people can't. I would love to be as talented and fearless as Poppy is when she's walking a high wire or twirling on the trapeze. Because she's been doing these things since she was tiny they are as normal to Poppy as walking. I also loved writing about the circus as a vibrant and exciting place, somewhere that attracts a group of real characters. I'd definitely have liked to grow up in Madame Pym's Travelling Circus with Poppy's family.
3. What are your influences as a writer?
There are loads. There's definitely a nostalgic quality to the book, and I was influenced by writers like Enid Blyton and Edith Nesbit. I absolutely love Andy Stanton's Mr Gum books for their humour and the way he plays with language and Roald Dahl for the same reason. As a child I used to absolutely devour detective books like the Nancy Drew mysteries or Famous Five books and I wanted that pace and excitement to play through the story.
4. What children's books did you read growing up?
I guess I already answered this a bit but really I read everything! I was an insatiable reader as a child. My favourite children's book would either be Peter Pan or Matilda. Favourite writers included Eva Ibbotson, Roald Dahl, Dodie Smith, Jacqueline Wilson, Louisa M. Alcott, Enid Blyton, C.S. Lewis, and – of course – J.K.Rowling!
5. Where and when do you write?
Anywhere and everywhere! I am not very organised so there are bits of Poppy Pym on the back of envelopes and postcards and post it notes. The real writing is when I sit down at my desk and untangle everything and put it in one place. I usually get very absorbed in this part so I will write all day, every day for an intense period of time, then go back to letting the ideas breathe a bit and fall into place. It sounds mad but it works and it's a lot of fun!
6. If you were to sum up your life in a circus act, what would that be?
At the moment it would absolutely be a juggling act! I am finishing my PhD and teaching at the same time as working on editing Poppy Pym so there are a lot of things jostling for space in my brain. There's light at the end of the tunnel though, and hopefully soon it will be more like flying around in an exciting trapeze show!
7. What's the best thing about being a writer? There are a million brilliant things about being a writer. I absolutely love it. The best thing is probably that fizzing feeling of telling a good story, when you can feel your imagination really firing up and the ideas just start tumbling all over each other. I really feel that especially when I write about the circus characters and their big, funny personalities. They absolutely live inside my mind and getting their vibrancy down on paper is so much fun.
8. If Poppy could have two friends from other children's books, who would they be and why?
What an amazing question! I think Hagrid from Harry Potter would be great friends with Poppy and would fit beautifully into her circus family. All his curious beasts would be very welcome and he could arm wrestle with Boris the strong man. I also think Lucy Pevensie from the Narnia books – always one of my favourite characters growing up – would be a brilliant friend for Poppy. She's so loyal and gutsy and the two of them would have some fantastic adventures. Plus they both love lions!
Want to find out more about Laura Wood and Poppy Pym and the Pharaoh's Curse? Follow Laura on Twitter @lauraclarewood or visit her website. You can also head over to our Twitter @scholasticuk for loads more Poppy Pym fun!
Similar Posts
Scholastic and bestselling author Helen Rutter partner with Family Action to deliver publishing workshop for young carers.

March is an exciting month in the Scholastic calendar. With World Book Day just days away and some fantastic new books coming out this month, we have a lot to celebrate! We're rounding up just a few of the things you can…

This week is Random Acts of Kindness Week, so bestselling author Helen Rutter is here to share her favourite books about being kind and showing empathy.
All categories