Scholastic Christmas: Author Amy Sparkes chats about Alien's Crazy Christmas!
Some books I write are just a giggle from start to finish – from the dawning of the initial idea to the final edit before it goes off into the world. 'Alien's Crazy Christmas' was one of those books. My giggling actually started in a Christmas fair. I was running a bookstall, and, in between customers, I was thinking about what could make a fun Christmas book. There was inspiration everywhere – tinsel, trees, Christmas music, mince pies, Santa Claus…
As I looked at this bombardment of Christmas customs, it occurred to me… how funny it would be if things were mixed up. What if the reindeer came down the chimney pot instead of Santa? What if the Christmas turkey was put on top of the tree? And exactly how much chaos could all this cause?!
Clapping my hands together with childish delight, my next question was 'why?' Why would this happen? We all know our Christmas customs very well, and no child is going to leave a pair of pants hanging at the end of their bed on Christmas eve, hopeful that they will be filled come morning. What I needed was someone who was unfamiliar with the customs…
An alien! (More clapping. More giggling). Someone who had visited Earth at Christmas, witnessed the wonderful customs, and decided this would cheer up his friends back home. But of course… it all somehow gets mixed up! The next thing that happened was a gift. Sometimes when I'm writing books, a line just falls into my head. And so came the line: "But what on Earth do earthlings do with all the Brussels sprouts?"
Sprouts! My favourite Christmas vegetable! Shaped like a bauble, which would conveniently confuse any aliens who happened to be passing! Perfect. People may be divided when it comes to the yumminess of sprouts, but, personally, I really like this vegetable (although I wouldn't eat it for breakfast). And, I thought, wouldn't it be fun if somehow the humble, oft-rejected sprout saved the day? Yes, I decided. Yes, it would. So 'Alien's Crazy Christmas' was written.
The book was so much fun to create with Jamie Smith and the lovely team at Scholastic. Jamie's illustrations are hilarious. When they were sent through to me, yes, I started giggling all over again. There are pages I still cannot read with a straight face. Maybe that's not a bad thing. After all, we need a good giggle, from time to time. Just ask the aliens on Planet Blip.

Happy Crazy Christmas!
There's even a chance to win a signed copy of Alien's Crazy Christmas! Just tweet us @scholasticuk with your craziest Christmas memory by 5pm on Wednesday 16th December, and you could be the lucky winner. Good luck!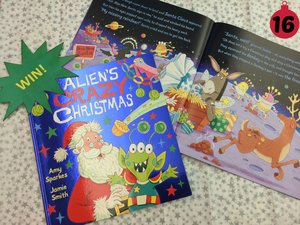 Similar Posts
If you're looking for a holiday read that will keep you as entertained as your favourite festive film, we have you covered with our list of comparative recommendations!

Take a tour of elemental London from The Case of the Chaos Monster, with research from author Patrice Lawrence.

With the brand-new Five Nights at Freddy's film out in cinemas today, we've collated our top scariest books based on popular survival-horror video games that are perfect for gamers and lovers of all things scary.
All categories