9 ways to share your Book Club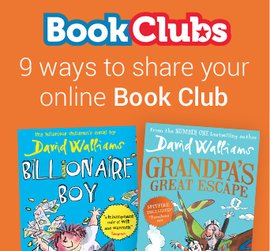 1. Send your unique webpage link far and wide to parents and don't forget to send it to the rest of your school's teaching staff.
Every school registered with us gets its own webpage. Send this link to parents and their orders will automatically be added to your School Group Order. Parents can browse, choose the books they want and then pay securely online. Books will then be delivered to your school once your group order is closed.
You can find your school's unique webpage link under the Manage Your Book Club page on our website once you are logged in.
2. Go to the Promote Your Book Club section in the Manage Your Book Club page and use our wording templates to send mobile phone texts, emails or letters to your parents to get them shopping online.
We have a number of templates with information that you can copy and paste into text messages, emails or letters to send to parents. You can find these here once you login.
3. Ask your colleagues to help you share about the Book Clubs.
Do your colleagues know that you are running a Book Club? Maybe you can promote it together and share in the free books and rewards for your classrooms that you receive.
4. Forward on one of our weekly emails
Look out for our emails that usually land in your inbox on a Thursday. These are our picks of the book club offer and feature our latest and favourite deals. You can just forward on these emails to your own email parent lists as a way of promoting the books and helping your parents and children find something they will love.
5. Make sure parents are aware that by buying through a Scholastic Book Club they will be providing free books for their school.
Tell them how much has been raised for their school already and what this has meant to the school. You'll find the current figure for your own school when you click on your unique webpage link – it is clearly highlighted on the right hand side of the main page.
6. Encourage parents to let their children see all the books we have on offer – and they can engage with reading in our Kids Club.
We have fun games, activity sheets, information about some of your favourite authors and more on our Kids Club website. Parents can use the site to see what books their children will love before buying them through your Book Club.
7. Make sure parents know how long you are running your Book Club for and how long they have left to order!
If you need to check you can find this information when you login to Manage Your Book Club – and we'll email you a reminder a week before your Book Club is due to close.
8. Let your pupils know
Make sure you hang up the posters you were sent and if you had them, hand out the leaflets we sent you to get pupils excited about your Book Club.
9. Share our 'Discover the Magic of a Scholastic Book Club' video to hear from teachers and children.
We filmed teachers and children's' thoughts on Book Clubs and why they love them. It's a great reminder about how exciting children find ordering books through a school book club and it could be a great way to get parents more involved when you are running a book club.
And don't forget to say thank you!
Once your book club is closed and the books have been delivered and handed out, do email your parents to thank them for their orders and let them know how much they have raised in books and resources for the school by ordering through a Scholastic Book Club. It's a great incentive for new parents to get involved the next time you run a club.
If you have any other tips or advice you'd like to share with other teachers on how you encourage parents to order, do let us know.
Best wishes,