Scholastic Spotlight: Author Jo Simmons discusses the value of Funny Fiction
Walking home from school recently, my ten-year-old son asked how I met his dad. And then answered his own question. 'Was it two lonely people, who came together because they couldn't find anyone else…?' That made me laugh. (It wasn't quite like that, by the way.) But then, he makes me laugh every day: his love of the word 'succulent'; his habit of saying, 'What now?' when I wake him in the morning; the way he winds up his granny by asking her, every time he visits, if he can put a grape in the microwave. (It's a no from her.)
Kids are funny. They say funny stuff. They do funny things. They laugh – a lot! On average, children laugh between 300 and 400 times a day. Adults, meanwhile, manage just 15 times. This makes children a willing audience for funny fiction. In fact, I'd argue that they positively deserve it!
Of course, funny fiction for kids is nothing new. It belongs to a rich tradition of imaginative, extraordinary writing, from the surreal world of Alice in Wonderland to the quirky charm of Winnie the Pooh. The best young funny books do more than just amuse; they properly acknowledge the sophistication of a child's sense of humour. Sure, the lavatorial stuff and physical mishaps have a place, but beyond the fart gags and falling-overs is a world of more surreal, bizarre comedy that kids are delighted to engage with. Zipping about in my Pip Street stories, for instance, are a pygmy pig with hypnotic powers, a rabid pug who stalks the woods, and a Keith Richards lookalike on a suped-up mobility scooter.
The value of funny fiction reaches way beyond its power to entertain. Every time an author makes a child laugh, it's a little victory for reading. Humour is a glorious diversion, tempting even a reluctant reader to try another chapter and just possibly converting them to the pleasure of a good book. Don't underestimate its appeal to reluctant parents, either. We all know the value of a bedtime story, but after a hard day at work, how many of us want to wade through three chapters of earnest adventure or puppy peril? Share a funny story, though, and it's a truly joyful thing: laughing together, reading in silly voices, glorying in the ridiculous set-ups and eccentric characters. It feels liberating, exciting, even slightly anarchic.
The now-paused Roald Dahl Prize and the current Lollies Award champion funny fiction for children, and thank goodness. It sometimes looks in danger of being elbowed aside by books that tackle issues, as if a witty story cannot also have meaning or relevance. But writing funny does not mean compromising on narrative ambition. A good funny story is still just that, a story, and can deliver all the truths and meaningful moments a more serious tale does. My books contain plenty of bonkers scenarios and freaky folk, but also touch on issues relevant to children: friendship problems, anxiety about change, fear of the dark and the frustration of being heard but not listened to, the latter particularly relevant to my latest hero, Super Loud Sam.
So before kids rush head-long into a world of post-apocalyptic YA fiction, let them enjoy a funny story. Let children giggle their way through a book; let them chuckle with each chapter. And if that means putting Keith Richards on a mobility scooter, that's absolutely fine by me. The apocalypse can wait.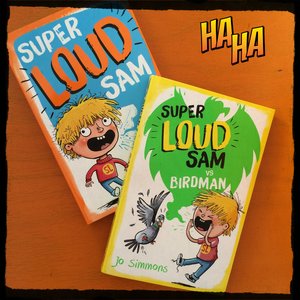 Super Loud Sam vs Birdman is out now. You can discover more about Pip Street stories and Super Loud Sam at www.visitpipstreet.com.
You can also follow Jo on Twitter @joanna_simmons or us @scholasticuk. Keep your eyes peeled on both of these accounts for a chance to WIN copies of both Super Loud Sam books!
Similar Posts
We're welcoming Lou Kuenzler, author of the Shrinking Violet, Princess Disgrace, and Bella Broomstick series. Today Lou's joining us on the Scholastic Blog to talk about her brand new book *_My Family and Other…

Today we're welcoming E. L. Norry, author of Voices: Son of the Circus – A Victorian Story, the third instalment in a thrilling new series to reflect the authentic, unsung stories of our past.

Author of The Switching Hour, Damaris Young, is taking part in our author Q&A this month!
All categories