Matt Hunt tells us which songs he'd take to a dream island
Matt Hunt, author and illustrator of Message in a Bottle , tells us which tracks he'd take with him if he, like Lion, went to live on a desert island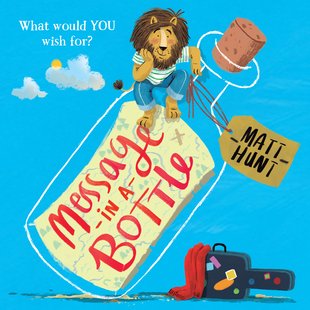 S: Hi Matt, thank you for joining us today. Imagine you have packed a bag and are headed to a desert island just like Lion in your new picture book Message in a Bottle. You're allowed to take eight songs, one book and a luxury item with you whilst you are there so let's hear what they are!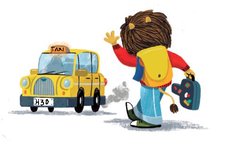 S: Firstly, please could you tell us a little bit about yourself, how did you get into writing and illustrating?
MH: I live and work in Redditch, Worcestershire. I've drawn since I was young and tried to copy the art from my favourite comic books. I studied fine art through college and university. My work always had an illustrative element and sometimes I'd create narratives around the themes and characters in my work. After graduating I focused much more on creating fun characters, most of the time just for my own amusement, and luckily people liked them!
S: Let's have some music, please tell us what your first song is and why?
MH: It's absolutely got to be a song by The Beatles. My mum introduced them to me when I was quite young so they've always been a big part of my life. 'Something' was my wedding first dance song, it's the best love song ever.
S: Can you tell us about your new picture book and where the idea came from?
MH: Message In A Bottle is about a Lion who's fed up with the miserable weather and needs a break away from the daily grind in the city. He escapes to a far flung desert island, just him and his guitar. But soon finds his paradise isn't as fun without someone to share it with. The idea came from a desire to get away from our miserable english weather and relax on a beach somewhere.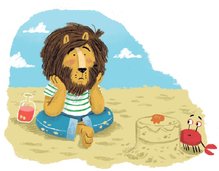 S: What would be your second song to take to the desert island and why?
MH: 'What's My Age Again' by Blink-182. I play guitar like Lion, when I was around 14 my friends and I had a band and would get together in a garage to play Blink-182 songs super loud. I can't imagine what the neighbours must have thought.
S: Lion is fed up of city life and that's why he goes somewhere more peaceful, is he inspired by you or anyone you know?
MH: Yeah there are definite similarities between me and Lion. I play guitar and I'm a little hairy. It's also inspired by something a lot of people can relate to, being fed up and wanting a change of scenery, and sometimes feeling lonely too.

S: What would your third song be and why?
MH: 'Secret Smile' by Semisonic. It was released when I was 10 years old and has just stuck with me ever since.
S: Could you tell us about your process of creating a picture book? Do the illustrations or words come first?
MH: It can be either. With Message In A Bottle the lion character was the first thing I created, and the story was inspired by him. I like to draw fun characters and place them in interesting situations and see if it sparks any narrative.
S: What would be your fourth song and why?
MH: 'I Just Wasn't Made For These Times' by The Beach Boys. I listened to the 'Pet Sounds' album non stop when I was on holiday last year. It's one of my favourite albums and all the tracks are amazing but this one stands out for me.
S: Do you like reading and what's next on your 'To Be Read' pile?
MH: Yeah I love reading! Dystopian and science fiction novels like Nineteen Eighty-Four, Brave New World and High Rise are some of my favourites. I also love James Bond novels so I'm anticipating the next 007 novel by Anthony Horowitz (Who doesn't want to imagine they're a secret agent jetting around the world!?)
S: What would be your fifth song and why?
MH: 'My Generation' by Limp Bizkit. This is the kind of loud and angry music I listen to in the gym, it really gets me energised!
S: If you could take just one book with you to the desert island, which one would you take and why?
MH: He Who Dares, the fictional autobiography by Del Boy. I'm a massive Only Fools And Horses fan, this book is really funny!
S: What would be your sixth song and why?
MH: '(They Long To Be) Close To You' by The Carpenters. Firstly because of Karen Carpenters voice. Secondly because I'm a fan of The Simpsons, and this song was in a really sweet episode where Homer and Marge first met.
S: You are also allowed to take one luxury item on to the desert island, what would you take?
MH: I recently bought a new camera and can't stop taking photos so it'd probably be that, or my guitar!
S: What would be your seventh song and why?
MH: 'Chateau Lobby #4' by Father John Misty. He's one of my favourite songwriters. His lyrics can be really ironic, observational, sarcastic and witty.
S: Lion sends messages out in bottles asking for company, do you think you'd be lonely on a desert island or would you enjoy the peace and quiet?
MH: I'd definitely enjoy the peace and quiet. The sound of waves and birdsong are really relaxing, but I can imagine getting lonely like Lion after a while.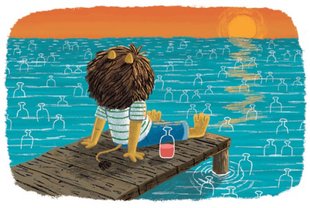 S: What would be your eighth song and why?
MH: Let's end with a loud one, 'Diamond Eyes' by Deftones. Another one for the gym, it's got a super heavy riff for lifting super heavy weights!
S: Finally, how do you think you'd fare on a desert island in terms of finding shelter and resources?
MH: I may have to brush up on my Bear Grylls survival skills, but I think i'd fare quite well! I'd model myself on Tom Hanks from Cast Away, live on fish and coconuts and make friends with a ball called Wilson.
S: Thanks so much for joining us!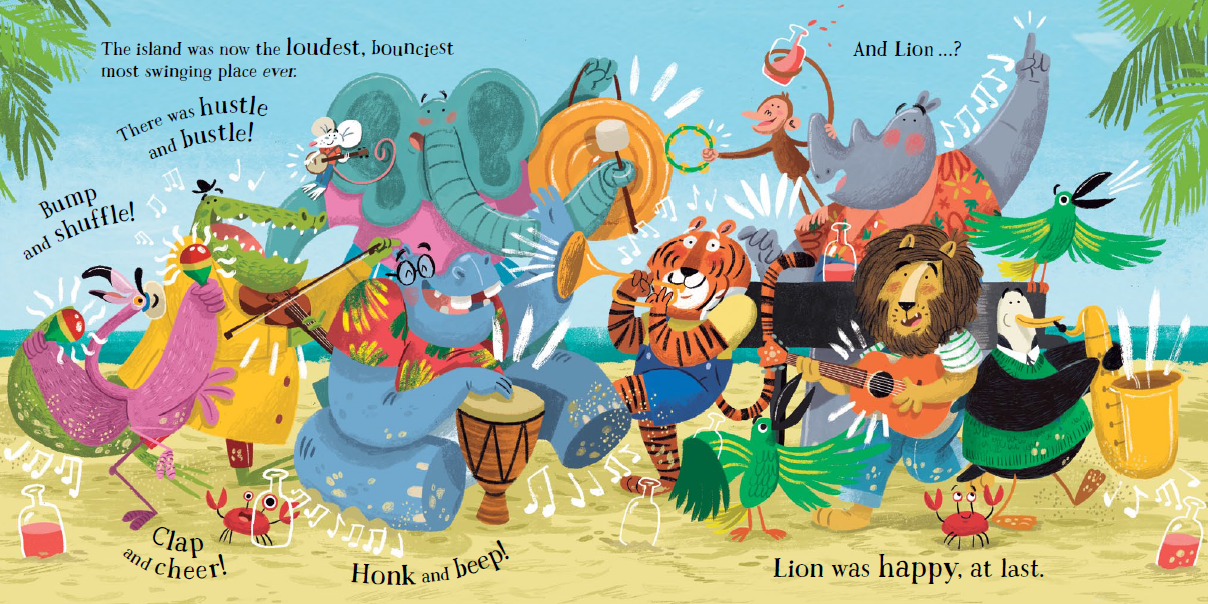 Matt Hunt's picture book, Message in a Bottle is out now! You can follow Matt on Twitter @i_is_mat or visit his website www.matthuntillustration.com for the latest news!
Buy the book here !
Download our FREE Message in a Bottle activity sheets:


Illustrations copyright © Matt Hunt, 2017.