Back to School fun with Emma McCann
/assets/a/3b/b0/learntodrawemma-2034010.png
As students around the UK head back to school, illustrator Emma McCann stops by the Scholastic blog to share some fun drawing tips – perfect for any art class!
Learn how to draw Bin Boy himself!
And, you can also learn how to draw Connie (a ginger genius)!
We also have FREE downloadable resources available, which includes further drawing exercises (such as designing your own superhero costume), a word search and some super-hero themed writing exercises as well!
If you'd like to share your drawings with us, please share on social media using the hashtag #BinBoy!
Follow Emma on:
Follow Tom on: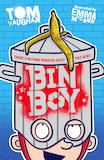 BIN BOY

by Tom Vaughan and Emma McCann is published in July 2021.