Book Adventurers: Karen McCombie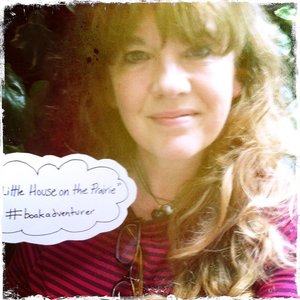 This summer, we're asking children – where will you go?
To become a book adventurer this summer, all children have to do is download our free make-at-home passport. Once they've started reading and checking places off their lists, they can cut out the stamps included in the passport pack and glue them in. We've left space to write on each stamp where you've traveled that week – whether it's Narnia, the circus or the wild plains of Africa!
To help them and you get inspired, we've asked some brilliant children's authors to tell us about the book that never failed to take them to another world when they were children. In today's post, we hear from bestselling children's author Karen McCombie!
Little House on the Prairie series by Laura Ingalls Wilder
Picture me (aged 10), in Aberdeen, Scotland: I live on the fifteenth floor of a high-rise block of flats, and from my bedroom window I can see the whole of the city spread out below, as well as the steel-grey North Sea, which is dotted with oil rigs.
It's quite a breath-taking view, but I'm not looking at it. That's because it's the summer holidays and when I'm not out and about with my family or friends, I'm going to be miles away (in my head at least), travelling on a covered wagon, rattling through the wild flower-speckled prairies of mid-west America in the late 1800s.
I am absolutely lost in these true tales of pioneer girl Laura Ingalls Wilder and her family. Over the course of the holidays, I read all nine books in the series, and feel like I'm following Laura on every step of her journey, as Pa is driven to move Ma, Laura and her sisters even further West, with beauty and danger brushing up against them at every turn.
There are raging rivers to cross, American Indians watching their every move, snowstorms to get lost in and hurricanes ready to snatch everything away, including cattle!
But there are also mountains and lakes and prairies to gaze at, meadows to roam in, and adventures to be had with new friends.
And while I live in my modern flat with all its mod cons, I'm fascinated to read about the succession of places Laura calls home; from sleeping between the wheels of the wagon on their journeying, to earth-walled dug-outs in the banks of a river, to the neat little shanties Pa builds.
What I love most is that Laura feels so very real to me, doing normal things like washing dishes, struggling with her schoolwork, playing or arguing with her sisters, but all set in the most startling locations and circumstances.
For these few weeks, Laura feels like my dearest friend, even though she's in a time and a place so very far away from me. In fact, I feel sure I'll always have a place in my heart for her, even when I'm all grown up.
I'll never forget my summer with Laura.

Karen McCombie is a best-selling author, with more than 80 books published, and more than a million books sold. Her latest is time-slip novel 'The Whispers of Wilderwood Hall' (Scholastic). She has been a grown-up for quite a long time now, but still has her original, beloved collection of 'Little House on the Prairie' books. She re-reads them every few years, and still thinks fondly of Laura as an old, dear friend.
Similar Posts
Every Book Club, our experts pick out the books we think you'll really love and include them at a special price – they could be well-established classics loved for generations, or more modern reads that have acquired…

Every time we launch a new Book Club, we like to pick out some of our very favourite books. It's never easy – we're talking a lot of great books here – but to get you started, here are nine books we're especially excited…

This summer, we're asking children – where will you go?

To become a book adventurer this summer, all children have to do is download our free make-at-home passport. Once they've started reading and checking places off…
All categories