GiveABook: What I'll be giving this Christmas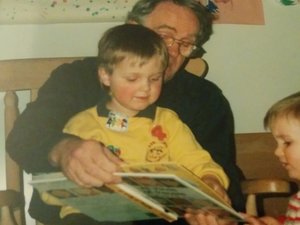 We're fast-approaching Christmas, and everyone in the Scholastic office is talking about the books they're going to be getting for their children this year. As the experts – *ahem – we wanted to share our favourite picks this festive season. In this post, Graeme looks back on the books he always loved sharing with his children when they were younger.
I was recently asked which book I would give to a child at Christmas, and why.
There are so so many, but I'm going to go with "The Big Big Sea" by Martin Waddell and Jennifer Eachus.
A mother gets her young daughter out of bed in the middle of the night, walks with her in the moonlight down to the sea, and shows her the lights of the town.
"Remember this moment. It's the way life should be".
The book is beautifully illustrated, and definitely hit the spot with these two sappy parents thinking "Damn that Mum really nailed it!". There are no dinosaurs or robots (not usually a good sign) but nonetheless, our kids really picked up the atmosphere of the book, and it became a family favourite.
Sneaking in a second title under the guise of exploring the same theme – and because I couldn't bear to leave this one out – Roald Dahl's wonderful Danny The Champion of the World is another firm favourite, and it sets us a particularly memorable challenge in the closing line "every child deserves a parent who is SPARKY!"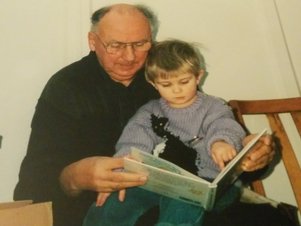 Life with kids is so very tiring! Present these stories to yours with caution, as they may set expectations high. As an old timer, I can say with some authority that it's worth the effort. Not doing fun stuff with their kids never made anyone less tired or more relaxed (although the author disapproves of stealing pheasants). My lovely babies have recently turned big, but they haven't lost their sense of wonder, and now they're the ones coming up with the great ideas.
Routines are there to be broken; bed times are at best guidelines. Sometimes you just have to go out and look at the falling snow in the streetlight. It really doesn't happen very often in these parts! And since you're already up, there are jam tarts that need to be baked – otherwise, how else would we get to eat them?
Of course, if you're reading this page then I'm preaching to the converted, and you're already used to making someone's day.
Make your Christmas shopping mean that little bit more and help us #GiveABook back to schools this year. By buying your books from us, you'll be helping to expand your children's school library, as you get 20% of your order back in free books for any school or nursery of your choice. If you're looking for some present inspiration, take a look at our Christmas Gift Guide 2016 – it's packed with the latest releases, ultimate classics and perfect Christmas stories to share over the festive season.
We'd love it if you'd help us spread the word so we can give even more free books to your school! Join the conversation on Twitter, Facebook and Instagram#GiveABook and tell us which books you'll be sharing this festive season. We'll be picking our three favourite suggestions and donating a book-laden sack worth £50 to the school or nursery of your choice, so it's time to get sharing!
Similar Posts
Give the gift of a book this Christmas and help turn kids into avid readers by reading their new books aloud with them!

Check out our selection of great Christmas resources on the Scholastic Resource Bank.

We look at a small selection of the weird and wonderful Christmas traditions from various countries around the world.
All categories