Guided reading: What's in a name?
By Sue Bodman and Glen Franklin from the

UCL

Institute of Education.
'Guided reading'. How is it that two simple words have come to be interpreted (and misinterpreted) in so many ways? Guided reading is a teaching method in which a teacher brings together a small group of children in order to provide explicit and focused teaching. It has been around for so long that maybe we stopped thinking about 'what's in the name?'
Let's step back for a moment and consider what 'guiding' in 'guided reading' really means, and how the concept helps us to identify a role and a purpose for this type of teaching.
Sometimes guiding involves taking the lead and supporting others to achieve a learning goal. Guiding a learner towards that goal involves knowing the route. Deciding what needs to be brought to the attention of the group requires us to know what the children can control and what is still tentative or just coming under control. Then we can judge when and exactly how much support to offer, in order to foster resilience.
We also need to know the demands of the book to be read. Preparing the book carefully ahead of a lesson enables us to support children to read it successfully for themselves during the 'listening in' section of the lesson. This would apply whether our teaching focus is on reinforcing just-taught phonemes from a phonics lesson, securing left-to-right orientation and word-matching with beginner readers, or considering character motives and plot development with Key Stage 2 pupils.
These aspects of guiding ensure that the reading experience is enjoyable and successful.
However, sometimes a guide steps back and lets the learner lead. Guided lessons provide an opportunity for the child to independently apply and practise reading strategies that have been recently taught, either through discrete lessons or through shared and modelled practices.
We teach for independence, and the child is enabled to read a book for themselves, needing less help. In guided reading, a clear, supportive book introduction alerts children to potential challenges in the text and a strategy check enables them to tackle these independently. When we act as a guide, we will have considered the right book for a particular group of children and for a particular purpose.
The choice of the book is crucial. The children will be achieving at a similar level and have similar needs so that the text is appropriate for all. We need to ask ourselves, 'Is the book worth a lesson?' A good choice of book provides ample opportunity for children to apply what they know. Most importantly, the book we choose is within the children's current capability but with an element of challenge and opportunity for new learning.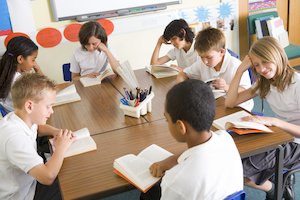 During the independent reading part of a guided lesson, the teacher as guide can let the reader take control, showing what they can do for themselves. Key to guided reading is the hand-over of responsibility to the learner – that's the guided bit. The guide is never far away: listening in, watching, ready to come to the aid of anyone who might need support to problem-solve a tricky part and get back on track.    A guide needs to be prepared: to know the potential pitfalls and be ready to pre-empt them; to be alert to the unexpected and take action as appropriate; to note what is happening and take a different route to that planned if necessary.
Reading is complex. Teaching children to read requires skill and knowledge: we use assessments to ensure that the book and teaching objectives are pitched at the child's current competencies; we plan carefully around the book before the lesson to plot teaching points and prepare for any challenges; we consider teaching prompts that will be helpful aids to independent problem-solving. These are ways in which we prepare to be a good guide.
A good guide knows their purpose. To guide effectively, we have good background knowledge of how children learn to read. We are clear which learning outcomes we are supporting the group to achieve.
Guided reading is linked into rich literacy provision, which also includes modelled, shared and independent reading. If guided lessons are separated from the rest of the curriculum, there is a risk they become aimless, as if the point of the lesson is to read that particular book, learn that word or practise that letter-sound relationship. Guiding is more than that. When we gather children together to guide them, our purpose is to enable them to apply all the skills they have at that point in time, in order to become more capable readers.
So, our role in guided reading is a bit like being a travel guide: just as we need a guide to help us get as much as possible out of our visit (what to take with us, how much money we might need and how to plan our itinerary), so the teacher as guide enables children to get so much more out of their encounter with each book. We are setting the learner off on the path to becoming a reader.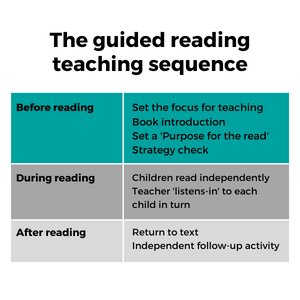 Dr Sue Bodman and Glen Franklin are National Leaders for Reading Recovery Europe in the International Literacy Centre at UCL Institute of Education. They are authors of Which Book and Why, a definitive guide for teachers trying to achieve effective guided reading for children aged 4-7.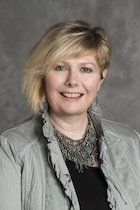 Dr Sue Bodman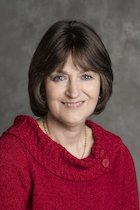 Glen Franklin
---
Scholastic Reading

CPD
You can now watch Dr Sue Bodman and Glen Franklin's virtual CPD session on on how to deliver effective guided reading for pupils in Early Years and Key Stage 1. Originally broadcast on 29th September, the video is available to view on the Scholastic Resource Bank CPD Video Library here.
---
Which Book and Why
Which Book and Why by Sue Bodman and Glen Franklin is the definitive guide for teachers trying to achieve effective guided reading for children aged 4-7. It is a vital resource that helps teachers to choose the right book at the right time for young readers based on focused assessments, and explains how guided reading fits with current theoretical understanding of how children learn.
---
Similar Posts
Early reading expert, Charlotte Raby, from Little Wandle Letters and Sounds Revised explains how their Department for Education approved systematic synthetic phonics programme helps to foster a lifelong love of reading.

Four years ago, Scholastic published the Scholastic Reading Audit, a free tool to support schools in the teaching and leading of reading. Now fully updated for 2021, find out…

Join us for a new programme of virtual CPD workshops to support your English curriculum. Hosted by a team of leading literacy experts, the live workshops will take place on Wednesdays at 3.45pm throughout the 2021-2022…
All categories