Q&A with Devon Holzwarth

1. Tell us about your latest book, Sophie's Stories.
Sophie's Stories follows our friend Sophie through an evening of bedtime routine gone particularly long. Sophie, like many kids (and inspired by my own!) loves to read and look at picture books and is not ready to go to sleep, even if her parents insist she must. Instead, Sophie finds herself literally caught up in her storybooks – soaring over a desert on a flying carpet, falling through rabbit holes, and being chased through a firefly-lit jungle. It's all too exciting, and Sophie can't help but go along for the ride, even if she knows it's time for bed!
Sophie's Stories is a book that I think most families will relate to. As parents and caregivers we undoubtedly experience the epic saga that bedtime can be. And while it can be challenging for adults who want a little peace at the end of the day, in Sophie's Stories we get to see what it's like for kids who have a hard time shutting down for the evening, especially when there's so much to read and learn and imagine. And best of all, we get to join in on the adventure!
2. What was your inspiration for Sophie's Stories?
The idea for Sophie's Stories came to me quite suddenly as I was out on a "thinking walk", where I usually try and come up with story ideas. I was thinking instead about my kids and how they wouldn't go to sleep when it was time for bed. This would cut into my own evening relaxation time and being an introvert and also a night owl, I was always quite ready for them to hit the hay and let me unwind. But as they have a love for reading and picture books just like me (and may be future night owls too…), it was hard for them some nights to keep the lights switched off and the books put away. This minor frustration led me to thinking about how wrapped up in their books my kids get (understandably), and then just like that I imagined the story and how it could play out!
I quickly went home and wrote it all down, and within a week or two (and with some input from my kids, who loved the story!) had the words separated into pages and was starting on visuals. I think the immediacy of how Sophie's Stories came to me was pretty unusual but I think it's due to the inspiration being so close to home and therefore easy to pull from. Most of the time, coming up with a story seems more difficult!

3. What was your favourite bedtime story growing up?

As a kid I loved all the Richard Scarry books, especially "What Do People Do All Day" and "Best Storybook Ever". I also really enjoyed books from Janet and Allan Ahlberg like "Each Peach Pear Plum" (so many things special things hidden in the illustrations) and "The Jolly Postman". Also pop up books like "Robot" from Jan Pienkowski, and stories about kids from places I found fascinating – like the book "Nine Days to Christmas" written and illustrated by Marie Hall Ets. I also had a healthy collection of Little Golden Books. I'm happy to say many of these titles are still on my bookshelf, but now here in my studio in Germany.

4. What recent book would you recommend as a bedtime story? (Apart from Sophie's Stories!)

For bedtime stories (besides "Sophie's Stories"!) I'll recommend some titles promoting restful, sleepy thoughts or dreamy scenarios like "In My Dreams" (Gemmill/Stephani) or "The Girl and the Dinosaur" (Hughes/Massini). I also really like to bring in poems or songs for bedtime and I would recommend "A Songbird Dreams of Singing" (Hosford/Potter) and while not a new book I have to suggest "Over In The Meadow" (Langstaff/Rojankovsky) as it's such a brilliant, classic and very sweet counting song that continues to be loved by our family. Lastly, another oldie – "Bedtime for Frances" (Hoban/Williams), which I thought of often while creating "Sophie's Stories". Frances is one of my favourite storybook characters and I think most kids will relate to her in this story, like they will in "Sophie's Stories".

5. This is your second book as an author-illustrator – what are the advantages and challenges that come with being an author-illustrator?

As this is my second picture book as author-illustrator, you might think it's all been easier this go around. While some things were less of a challenge as I'd been through the process before, it was still a roller coaster at times! I struggled with confidence while painting and it took many many tries on some spreads to get things where I wanted them. And throw in a pandemic, having my kids doing school at home, as well as balancing other projects…at times I could only work late at night when everything was quiet and peaceful. I definitely had grown in confidence by the end of putting the book together (isn't that the way it goes!) and had learned so much about my work process which I'd tried hard to streamline, and how to protect my time a bit more. I've worked on several books in the last two years as just the illustrator and really enjoy this kind of collaboration, but it's absolutely thrilling to produce picture books with my own stories and to draw the pictures to play along with them. I feel quite lucky to not only have found this calling but also that I get to work with such fantastic and creative people!

6. If you could be transported to any story, which story would you choose?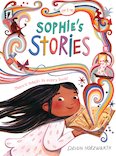 If I could be transported to any story…I could absolutely not pick just one! I would join everyone for plum pie in the sun in "Each Peach Pear Plum", paint eggs (and airplanes and cars) with the Abbott family in "The Easter Egg Artists", play with Stretchy and his brood in "Stretchy McHandsome", shrink very small to help build a wondrous fort in "Du Iz Tak", and then jump on the bed with Mrs. Mouse's twelve little mouse babies in "Best Storybook Ever".
Sophie's Stories by Devon Holzwarth is available now.

Similar Posts
Catherine Jacob tells us all about her new book, Betsy Buglove Saves the Bees. A gorgeous picture book beautifully illustrated by Lucy Fleming.

Alex Latimer tell us all about his new book, Pip & Egg, the most adorable book about the power of friendship with beautiful illustrations by David Litchfield.

Exciting news for Julia Donaldson fans – this Christmas sees the West End arrival of the stage adaptation of 'The Snail and the Whale'!
All categories