Summer Reading: How to Beat the Summer Slide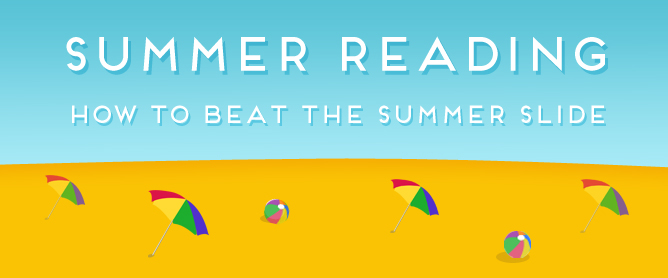 The summer holidays are just around the corner which means no uniforms to wash and no school lunches to pack but also the threat of the summer slide – the fear that when kids go on holidays their brains do too, and they forget some of what they learnt at the end of term by the start of the next school year.
So how can you help stop the summer slide but still let the kids (and you!) enjoy a well-deserved break?
We like to think of the luxurious amount of time over the holidays as the perfect opportunity to get children reading for fun – and to grow lifelong readers. Unlike reading in the classroom, you can take advantage of the time and flexibility of the holidays to make reading an enjoyable and relaxing holiday activity.
Over the next few weeks we'll be sharing our tips for summer reading, from the power of letting kids choose what they want to read, how parents can be reading role models, to working reading into everyday holiday activities, inside and outside the house.
Of course, selling the idea of reading these holidays to the kids may be a challenge, especially for reluctant readers. So here are some tips for what to do if you meet a little resistance.
"It's boring." It doesn't matter what your child is reading, as long as they are! The Kids and Family Reading Report showed that 9 in 10 kids surveyed said they're more likely to finish a book they've chosen themselves. Let your child choose what they want to read these holidays. Think about what formats they like, series they love and what subjects they're interested in.
"I don't have time." Help your child find a gap or a time that suits them for reading. Some kids will happily settle down for an afternoon with their nose buried in a book. Others will find it harder – help them set aside even fifteen minutes between activities or half an hour after lunch.
"It's too hard." Reading doesn't have to be challenging, and it doesn't have to feel like a chore. Try to find books written at the right level for their reading skills. Sometimes returning to an old favourite can be an enjoyable and reassuring way to make reading seem less challenging or hard.
"It's not important." Use everyday activities, like reading a recipe, board game instructions, directions on a walk and books on subjects that do matter to them, to show that reading is all around them in different ways. Even computer games require reading skills!
"It's not fun." The pressure of school – and home life – on a child's time can make reading seem like another chore, especially during the holidays when the pressures of school are behind them. Don't worry about pushing it; it's okay to take the pressure off and leave reading for another day.
Come back next week for the power of letting kids choose what they read, and how you can be a reading role model.
In the meantime, have a look at these great books for summer.
Similar Posts
It's summer, and you're going to be met with the inevitable rainy day. But don't worry! There are plenty of fun indoor activities to do that make reading fun.

It's not a surprise that sitting inside reading may not be the most appealing idea for kids during the summer holidays. The good news is that there's also plenty of reading to do outdoors.

Giving children the freedom to read what they want, when they want can become one of the highlights of the summer holidays, and can establish a lifelong love of reading.
All categories