The Case of the Chaos Monster London tour
Take a tour of elemental London from The Case of the Chaos Monster, with research from author Patrice Lawrence.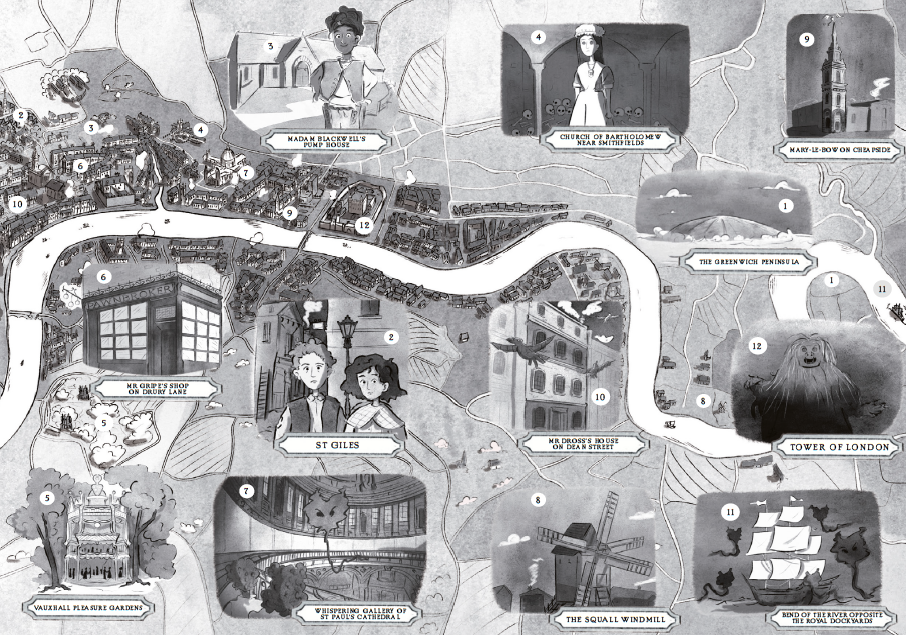 1. Millwall on the Isle of Dogs was named after the windmills that were built there to grind wheat to flour. There were 12 of them by 1740.
2. There really was a Potters Ferry carrying passengers from Greenwich to the Isle of Dogs, but strangely, it wasn't owned by a Mr Potter.
3. The Panyer Boy is a carving of a child sitting on a basket on the wall of Caffe Nero next to St Paul's Tube station. No one really knows its origins, but it is hundreds of years old.
4. There's been a Mary-le-Bow church on Cheapside, in London, for nearly 1000 years. Its bell is the 'Great Bell of Bow' in the 'Oranges and Lemons' nursery rhyme. The enormous gold dragon weather vane was designed by Sir Christopher Wren.
5. Nannerl Mozart and her family did rent rooms in a house on Frith Street in Soho in 1765 while they were touring Europe. There's a blue plaque on the wall.
6. The Monument to the Great Fire of London really has a dragon engraved on is side. The Golden Cherub of Pye Lane marks the place that the fire ended.
The Case of the Chaos Monster: an Elemental Detectives Mystery by Patrice Lawrence
A stunningly imagined, action-packed fantasy adventure for fans of Nevermoor, Neverwhere and Mortal Engines, from bestselling and award-winning author Patrice Lawrence.
Step into a London lit up by the Elemental spirits: the fiery Dragons, the airy Fumis, the watery Chads and the earthbound Magogs. Marisee and Robert – the Elemental Detectives – are back to solve another mystery on the streets of eighteenth century London.
An orchestra explodes in Vauxhall Pleasure Gardens and suddenly the music of London disappears… and a terrifying monster stirs off the Greenwich peninsular, threatening to trample London underfoot.
The detectives must track down the thief behind the music's disappearance – via the Whispering Gallery of St Paul's Cathedral, a Windmill-with-teeth on the Isle of Dogs and the dark streets of Soho… where a shadowy villain and his mechanical animal spies live.
You can find Patrice Lawrence on Twitter @LawrencePatrice.
Similar Posts
Discover this month's new books, spanning family favourites, heartwarming picture books, gripping thrillers and stories of self-discovery!

Hear from Ian Eagleton, author of Glitter Boy, all about his writing.

This year marks the 15th anniversary of the publication of the first Jamie Johnson book. We spoke with Dan Freedman about all things football, writing, inspiration and more!
All categories