The power of Book Clubs
Scholastic were so pleased to hear that the children at BiZoHa Humanist Orphanage and Schools in Uganda are really enjoying their new books. Last month, the school received a huge package of free books and teaching resources donated by generous supporters through their Scholastic Book Club program. Read their happy review below to learn more about the power of Scholastic Book Clubs.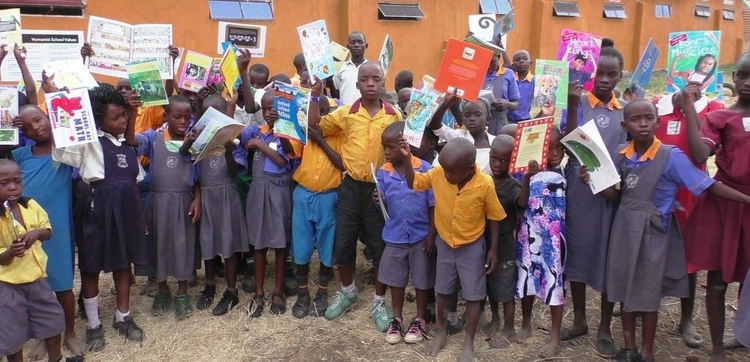 As our school year kicked off in late February, we were pleased to receive five cartons of books donated by generous supporters through our Scholastic Book Club program. Twenty-three people purchased a total of 245 books for the library and classrooms at Bizoha, to be enjoyed by all students at the school. Since each book purchased also gives our school Scholastic Rewards, we were able to select free of change another 49 books and other educational materials such as alphabet cards to hang in our classrooms. All told, our first book order brought the school a shipment valued at over $2500!
The children and teachers are especially enjoying the story books, as the students become familiar with reading or listening to the adventures of the characters and the idea of reading for pleasure. Also, the wide variety of science, geography and other learning books are so well geared toward capturing their attention with many pictures and interesting facts about the world and even the universe. These types of stories and books are somewhat of a novelty and the children have not had much experience with them in their lives so far. This program is a wonderful way to bring fun and stimulating learning to these young students. If you are interested in helping, we will be opening a new book order in about one week, and you can find Book Club on the menu bar of our website.
We salute our kind supporters of this first book order, and look forward to receiving more shipments of books as we begin to build an excellent learning library at Bizoha. Thank you, book donors!
If you would like to learn more about Scholastic Book Clubs, click here to start yours today!]
Similar Posts
This month is Black History Month – a time to celebrate the contribution made to our society over many years by the African and Caribbean communities.

To help you teach children about this important time, we've put…

There's no other season that inspires literature in quite the same way as autumn does – and there's definitely no better time to snuggle up with a stack of your favourite new reads. As the clocks go back and winter looms,...

We love reading, but sometimes children need that little extra push. Whether you're a parent or a teacher, here are five quick ways you can help children become more receptive to the idea of reading for pleasure.
All categories