Top tips for
GCSE AQA

English Literature students

Cindy Torn, one of the expert authors of our GCSE English AQA Study Guides, has given us her top tips for smashing revision on your set texts for the AQA English Literature GCSE 9-1 exam.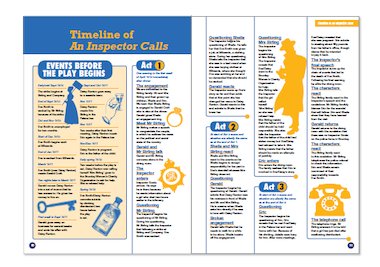 Tip #1
In the exam, it is important to know the sequence of events in your set text so you can quickly remember what happens before and after an extract. Using the Timeline in your AQA Study Guide, create a series of flashcards with a key event on each one. Shuffle them, then put them back into order. You could also use these as a timeline on your wall to help your revision.
Tip #2
Use the summaries in the Chronological section to revise the plot of your set text. Write 5 bullet points to cover each section. Get your friends or family to test you.
Tip #3
To gain the highest marks you need to explore links between different parts of your set texts. Use the Theme and Character Essentials at the end of each section to help you with this overview. Create flowcharts to map the development of characters and themes within the text.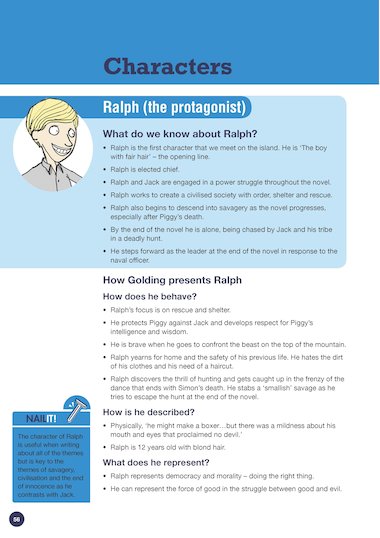 Tip #4
When you write about characters in your set texts, you must make clear points and reinforce your ideas with quotations. To help you do well, use the Characters section to create fact files to develop your own view of key characters.
Tip #5
To help you to understand the characters think about their function in the text. Ask yourself, 'What do they make happen in the plot or what do they represent?' The Characters section will help you to do this.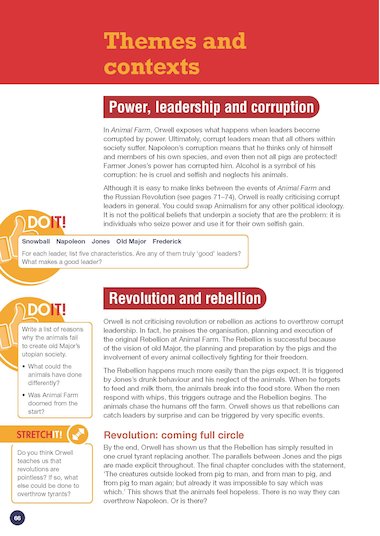 Tip #6
When writing about themes in your set text, create a useful list of words linked to that theme. The Themes and Contexts section is great for this. Get your friends or family to test you.
Tip #7
When writing about contexts, remember that you can consider how a contemporary reader/audience might react to an event, as well as a modern reader/audience. You can also consider if the reactions would be different and why – use the Themes and Contexts section to help.
To start your thinking, using each event in the Timeline, consider how a modern and contemporary reader/audience would react to it.
Tip #8
In the examination, it is your informed response to language that really counts. When learning quotations, think about what you like/notice about the writer's word choices and why you think they are effective. The Language, Structure and Form section will help you to do this.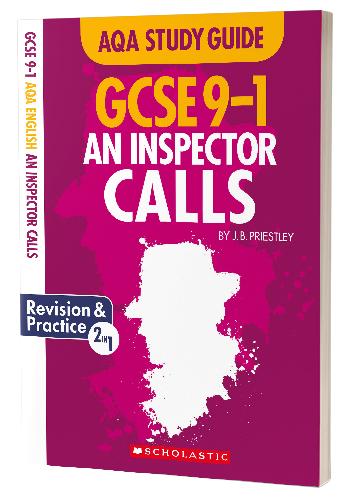 Tip #9
In the examination, make sure you understand the question so that you do not include irrelevant material in your answer. Pin the question down by annotating key words. Use the Understanding the Question section to help you with this skill.
Tip #10
Before you start writing, spend 10-15 minutes understanding the question and planning your answer. Aim for 4-5 well-planned paragraphs – plus a brief introduction and conclusion. Use the Planning your Answer section to help you.
Tip #11
Make sure that you know what the examiner is looking for in your answer. Select key phrases from the mark scheme to help you plan your answer. The Doing well in your AQA exam section in your AQA Study Guides will help you to do this.
Tip #12
In the month leading up to your examination, all of you preparation should focus on planning and writing exam answers to time. Use the AQA exam style questions in your AQA Study Guides to help you.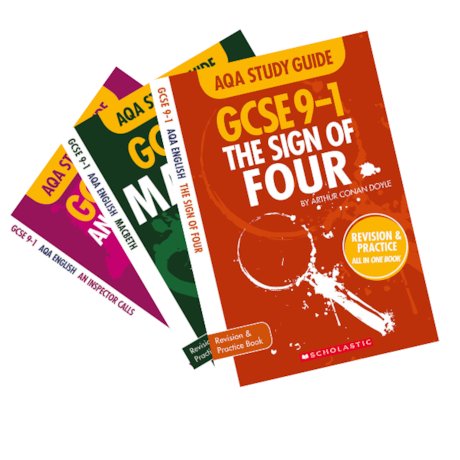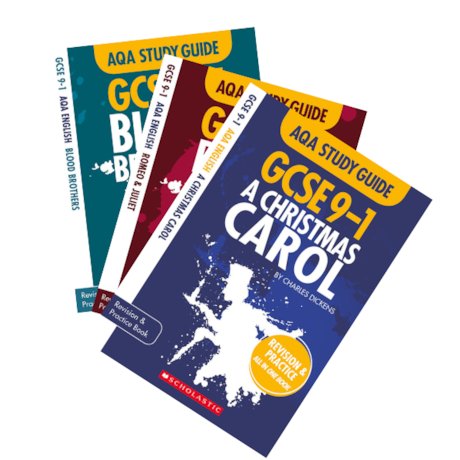 Shop Now