What to Look Out For This May

Put a spring in your step this May with lots of exciting bookish content! Look out for exciting new books, check out our jam-packed schedule of virtual author visits, and discover amazing free resources for you to download! To help you keep up to date, we're rounding up just a few of the things you can look out for from us this month in children's books, education, Book Clubs, and more.
Scholastic Schools Live Spring Events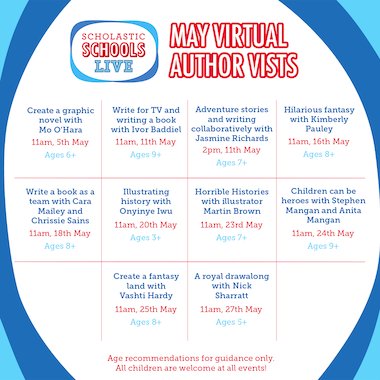 Join us for a jam-packed schedule of Scholastic Schools Live events this May! Find exciting events from brilliant authors and illustrators including Mo O'Hara, Ivor Baddiel, Onyinye Iwu, Vashti Hardy, Nick Sharratt and many more!
You can still register for your place! Simply head over to our Scholastic Live website and reserve your spot for each event. We can't wait to see you there!
---
New books coming out this May
Check out our exciting new titles publishing this month! Get lost in exciting adventures, laugh-out-loud with funny fiction and get the latest instalments from your favourite authors. Discover all the books publishing this month.
Scholastic Book Clubs: Books of the Month
---
---