Scholastic Book Fair Success Story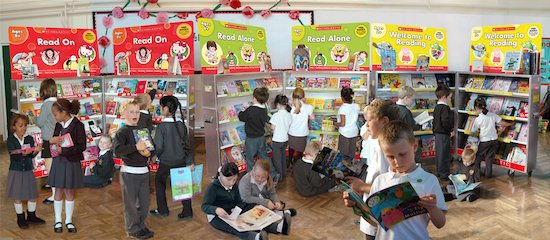 Yesterday, we heard from a small school in Ireland who ran their first book fair in 20 years.
The Book Fair organiser said they spent the whole week of the book fair focussed on reading and it has changed every child's attitude to reading and writing stories.
They had two storytellers and one actress in the school the week of the fair and all the children can talk about since the fair is reading, reading, reading!
Now that's what we like to hear!
It's easy to book a Fair.
Just register with our Organiser Toolkit to find a suitable date using our online calendar, or give us a call for free on 0800 212 281.
We're always happy to provide help and advice! Find out more on our Book Fairs page
Similar Posts
A school in Ireland have seen massive success with their We Are Writers book, and have even been featured on RTÉ News!

A school in Ireland have seen massive success with their We Are Writers book, and have even been featured on RTÉ News!

This year, we're introducing a brand new way for you to pay for books at your Scholastic Book Fair. Phone Pay is a simple, secure way to make credit or debit card payments at a Book Fair
All categories