Scholastic Book Clubs Q&A with Sophie Kinsella
We're so excited for the release of Finding Audrey, Sophie Kinsella's first novel for young adults! So, we caught up with the bestselling author to chat about heroines, coffee and Roald Dahl. Read the fantastic Q&A below to find out more.
Finding Audrey is your first novel for young adults – did this change the way you approached writing the book?
I didn't consciously set out to write a YA book at first, but simply to tell a story, and so in that way I treated it like any other novel. However, I took special care over the voice of Audrey as I wanted above all to be authentic. I also consulted my own teenage children, which I never normally do!
The novel deals with a serious topic in a warm, light-hearted way (Audrey is a teenage girl suffering from Social Anxiety Disorder). How did the character of Audrey come about and what inspired you to cover this topic?
Much like with my other heroines, Audrey came out of a flash of inspiration. I thought of her, Frank and their mother Anne and they just came to life. Each of them is struggling with something, Audrey has social anxiety, but Anne and Frank are struggling with issues too, and I wanted to convey that. I write what I see around me, and I have sadly seen all these issues in real life. They are a family battling through as best they can and ultimately helping one another.
What kind of books did you enjoy when you were growing up?
Everything, I think. Roald Dahl, E. Nesbit, Rumer Godden. I loved The Chalet School series and Harriet the Spy.
What's your favourite book of all time?
My favourite book always changes, but I love everything by Jane Austen and Agatha Christie.
What made you want to be a writer?
Stories – the ones I used to read on my commute to work and the ones my mother used to tell me at bedtime. I always loved stories, and then one day I realised I wanted to write them too.
Do you have a favourite place to write?
I have an office with a rather untidy desk where I tend to do all my writing, but I go to coffee shops too! Coffee shops can be a great source of inspiration when I'm still in the planning stages.
What helps you write? (music, food, TV, etc)
Loud music (I normally repeat a song over and over again) and lots of coffee. Plus, stationery: notebooks, file cards, pens, pencils, you can never have too many. And chocolate bars.
What are you writing at the moment?
The latest book in the Shopaholic series, Shopaholic to the Rescue, has recently been published in paperback, and I have been working on a standalone novel since then. You'll hear more soon…
Do you have any writing tips for any aspiring writers out there?
Write a book that you want to read and don't tell anyone what it is until you get to the end!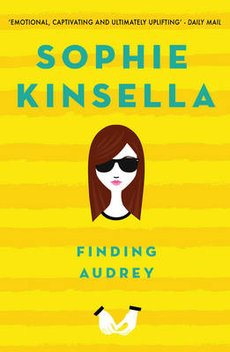 Finding Audrey is available on our shop here.
Similar Posts
We're welcoming Lou Kuenzler, author of the Shrinking Violet, Princess Disgrace, and Bella Broomstick series. Today Lou's joining us on the Scholastic Blog to talk about her brand new book *_My Family and Other…

Today we're welcoming E. L. Norry, author of Voices: Son of the Circus – A Victorian Story, the third instalment in a thrilling new series to reflect the authentic, unsung stories of our past.

Author of The Switching Hour, Damaris Young, is taking part in our author Q&A this month!
All categories