Anna Williamson's top five tips on how to support a young person's mental health

Anna Williamson, author of How Not To Lose It, is a trained therapist, Childline counsellor and ambassador for Mind and The Prince's Trust – as well as E4's Celebs Go Dating Relationship expert, radio presenter and bestselling adult mental health author.
With 50 per cent of mental health problems being established before the age of 14, it is vitally important that young people have the support that they need when faced with challenging times of unease and uncertainty. Adults should absolutely be the go-to support network to help encourage and educate, and empathise when children might need that all-important sounding board.
Parents, teachers and trusted adults can offer so much to a young person in need. Encouraging a young person to talk about their feelings can really help them in the short and long term, whenever issues may arise.
Supporting a young person's mental health can seem daunting, and perhaps overwhelming, but it really shouldn't be – mental health is a part of all of us. You don't have to be perfect, you just have to listen and care.
Don't assume that everything in a child's world is rosy. It may seem like young people have nothing to worry about, but sadly, the reality is far from that. There are lots of concerns pressing down on children today – instead of hoping that any issues will go away, make sure you ask your child questions, show them support and crucially, listen.


Be careful not to judge a young person's perspective and compare it to your own. Adults have a whole different set of worries to children (such as finances, relationships…) Remember that young people have equally concerning issues and challenges, like friendships and school/family stressors, which are very real to them. Try and see what life is like through their eyes to gain a better understanding.


Be open and non-judgemental when talking to your child. Offering a safe space for them to talk to you about anything that's on their mind will really help them to open up. And in turn, it will help you to understand and empathise with them about what's going on in their world.


Choose your timing wisely. It's a good idea to make sure you aren't busy or distracted when engaging in conversation with the child so you can give them your full attention. This is key in getting a young person on side and trusting you. Don't confront them – instead, perhaps give them a little bit of notice that you would like a chat, and maybe engage with them during an activity or on a walk when things are less intense


Look out for changes in behaviour and mood, and for anything that seems out of character. Mental health issues can present in so many different ways – some of the most common symptoms include:

being withdrawn
mood swings
fidgeting or restless behaviour
being secretive
spending vast amounts of time on social media
worrying a lot more than usual.
It's best to be on the safe side and to enquire about your child's well being rather than to just dismiss it as 'adolescent behaviour'.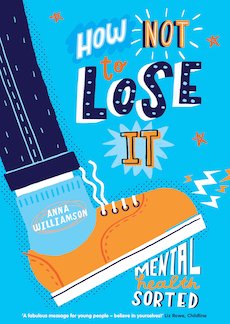 Buy How Not To Lose It here
Similar Posts
Rachel Pierce tells us all about her new book, Ireland: The People, The Places, The Stories, a stunning celebration of the rich culture and fascinating history of Ireland featuring ten Irish illustrators.

Take a look at some of the things coming up this May, including brand new books, live school events and a competition to win a family set of Micro Scooters!

We're rounding up just a few of the things you can look out for from us this month in children's books, education, Book Clubs and more.
All categories