Celebrate Grumpycorn with Sarah McIntyre!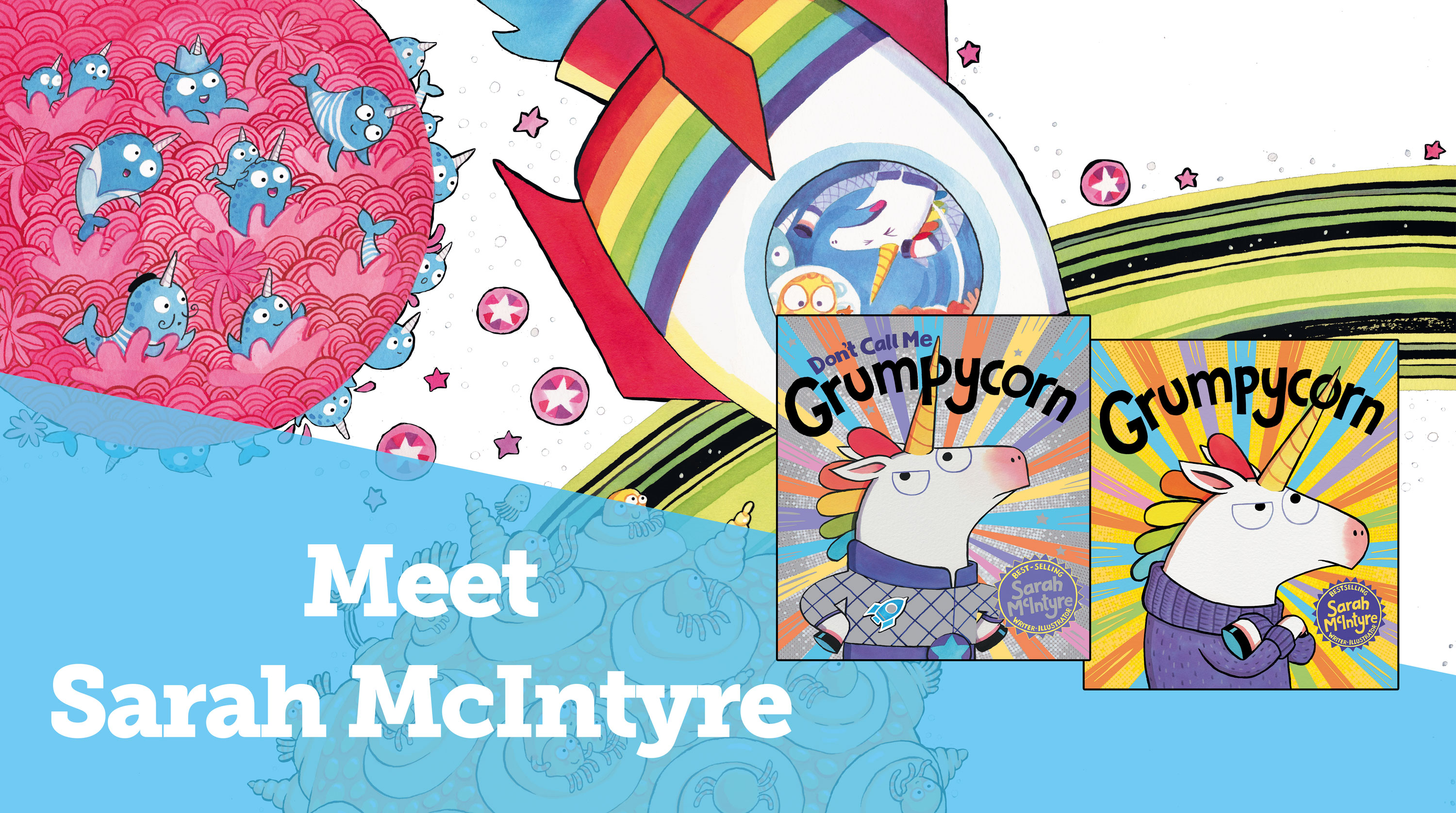 Unicorn is back… and he's still grumpy! Unicorn, Narwhal, Mermaid and Jellyfish are ready for an adventure, and, as Unicorn quite rightly points out, nothing is more adventurous than travelling into SPACE. Celebrate all things Grumpycorn with this brand new interview with superstar author and illustrator Sarah McIntyre!
1. Why do you make Unicorn so TERRIBLE at playing with others??
Many of you will know what it's like when you are making or organising something, and then other people come along and don't do things exactly the way you'd want them to. It can be very frustrating! I remember in school, being assigned group projects and struggling to keep my cool. I think a lot of children (and adults!) will relate to that idea of wanting to do something your own way, because that's the RIGHT way. Sometimes we need to give in and listen to everyone else, and compromise, but that can be painful.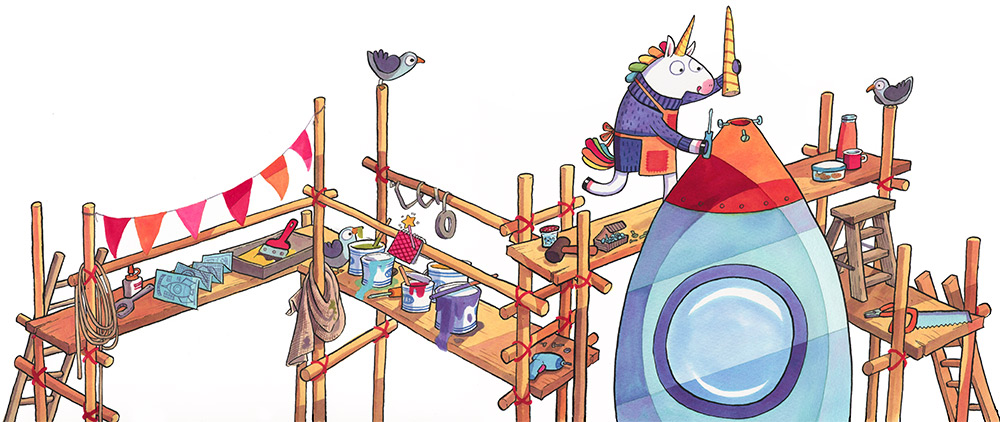 2. Unicorn is such a twit! Does he grow in this book?
Unicorn assumes that the other unicorns on Unicorn Planet will be the best, most fabulous friends, and he runs off and leaves Mermaid, Narwhal and Jellyfish in a lurch. But he learns that sometimes the cool kids aren't always the best friends, and realised that his true home is with his motley old crew of friends who love him and who forgive him for acting like a bratty drama queen. It's a story about forgiveness, belonging, and appreciating the people who really love us.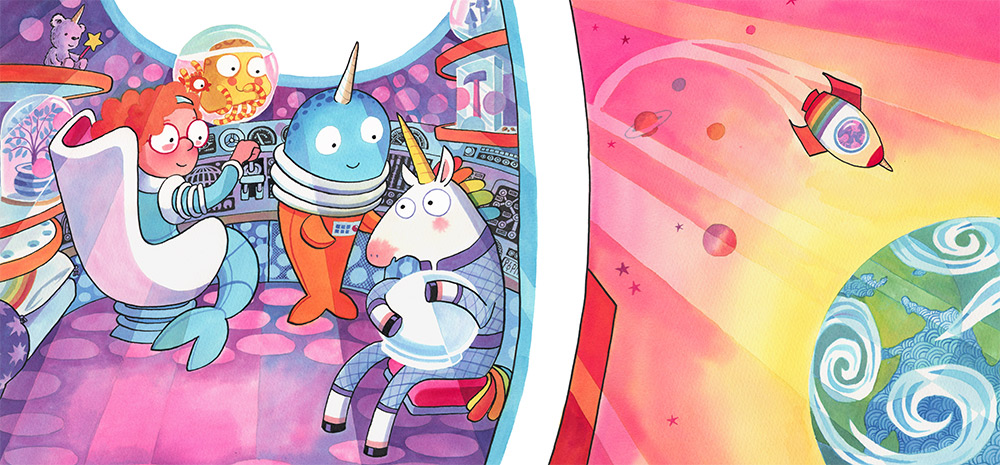 3. What's your favourite part of the story?
When Unicorn has gone off with his 'fabulous friends', there's a moment when Mermaid and Narwhal have got caught up in Unicorn's idea that they belong on the planet that are populated by creatures the most similar to them. Mermaid is resigned to go to Mermaid Planet, and Narwhal, to the Narwhal Planet. But Jellyfish isn't buying into that; for all his silly ways, he knows that 'home' isn't about sameness, but it's the place where we feel welcome, where we can be with the people who love us, who put up with us, and who have shared experiences with us. His plaintive 'I want to go home' really struck a chord with me when I wrote it, and that's when I knew this book could work.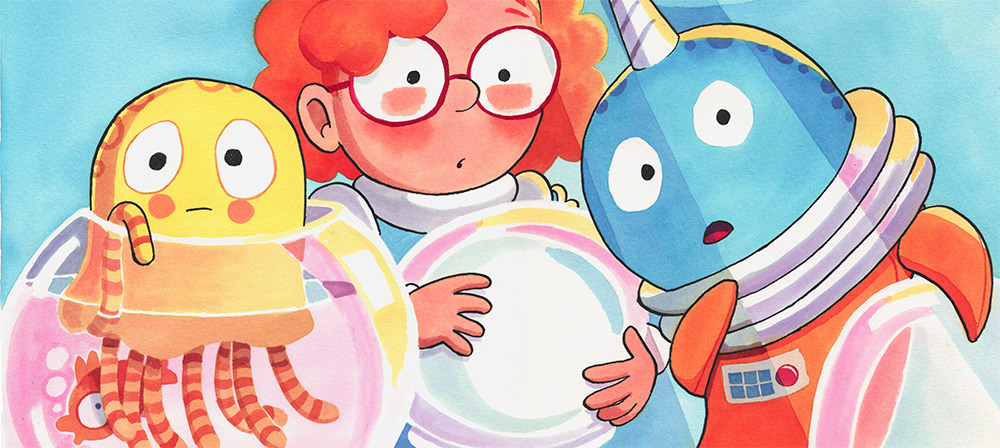 4. Why were you inspired to create Grumpycorn?
The first Grumpycorn book came about when I had a picture book due as soon as I got back from holiday! I'd been working so hard on the previous book that I hadn't had any time to think about it. So I started writing the very first thing that came into my head, 'Once upon a time Sarah was trying to write a book but she had no idea what to write.' And then I thought, that would be a more interesting story if I was a unicorn. And I thought about a lot of writers I see on social media who are always writing about the process of writing, but hardly ever actually write anything. Unicorn is like that, he's in love with the idea of being a writer, but it's his friend Narwhal who picks up the pen and actually starts to write something. And just like my experience, Narwhal's first sentence is literally what's happening: 'Once upon a time a unicorn tried to write the most fabulous story in the world'. For the second book, I just swapped jobs: Unicorn loves the idea of being an astronaut! But this time he's actually put in the work and built himself a spaceship.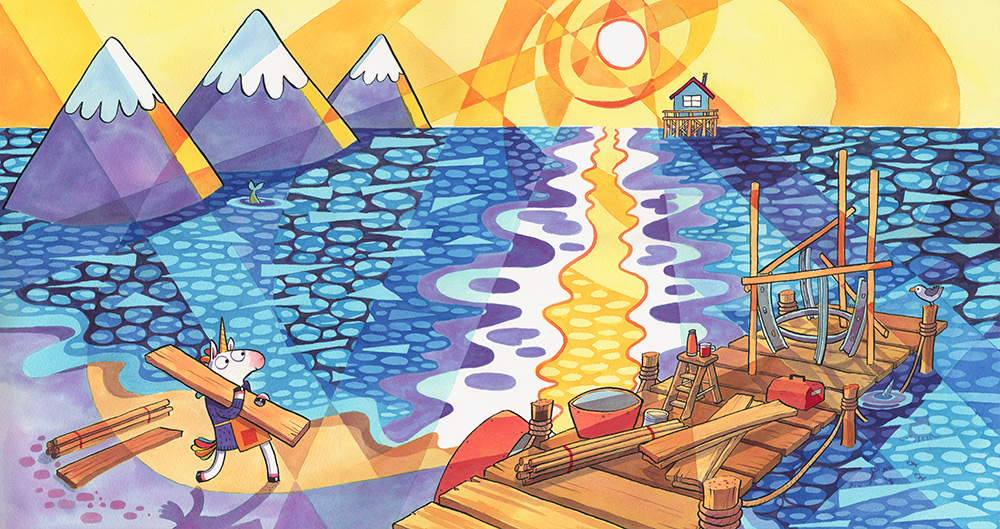 5. What makes you grumpy?
I get grumpy when I'm right in the middle of a terrific story (whether it be reading a book or watching a film), or making a drawing that I like, and I have to go do something else. All I want to do is go back to that story or drawing and everything else feels like an annoying distraction!
I also feel grumpy when people only credit the writer of picture books, when the pictures take so much time and skill to make. In fact, I started a whole campaign about it, called #PicturesMeanBusiness, explaining how everyone benefits when the artist behind a book is also credited. Sometimes people come to stories through the pictures instead of the words, and if they realise the illustrator is an actual person, they might think, hey, I could draw a story, too! I love it when people spot characters in the pictures that aren't even mentioned in the words. In Grumpycorn, it's the sea horses, and in Don't Call Me Grumpycorn, it's the little goldfish that sticks around in the fishbowl that Jellyfish repurposes as a space helmet.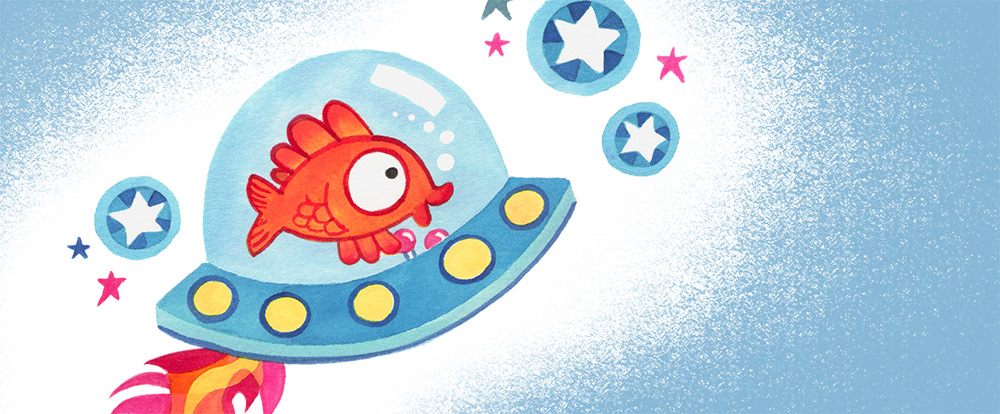 6. Which character in Grumpycorn do you identify with the most?
I think it's Jellyfish. When I do book events, I run around in big floofy frocks and mad hats and people don't always take me very seriously. A journalist once criticised me leading the #PIcturesMeanBusiness campaign by saying that perhaps it needed someone more serious, that I should throw 'less chiffon' at it. Just like me, Jellyfish comes across as cheerful but kind of ridiculous. But I like to think that, like Jellyfish, sometimes I have something to say that's worth listening to. That journalist deleted what he'd written, and wrote much better things when the campaign really started making a difference in the publishing industry.
...Also, Jellyfish gets a bad case of the hiccups in Don't Call Me Grumpycorn, and when I was a kid, I ALWAYS had the hiccups.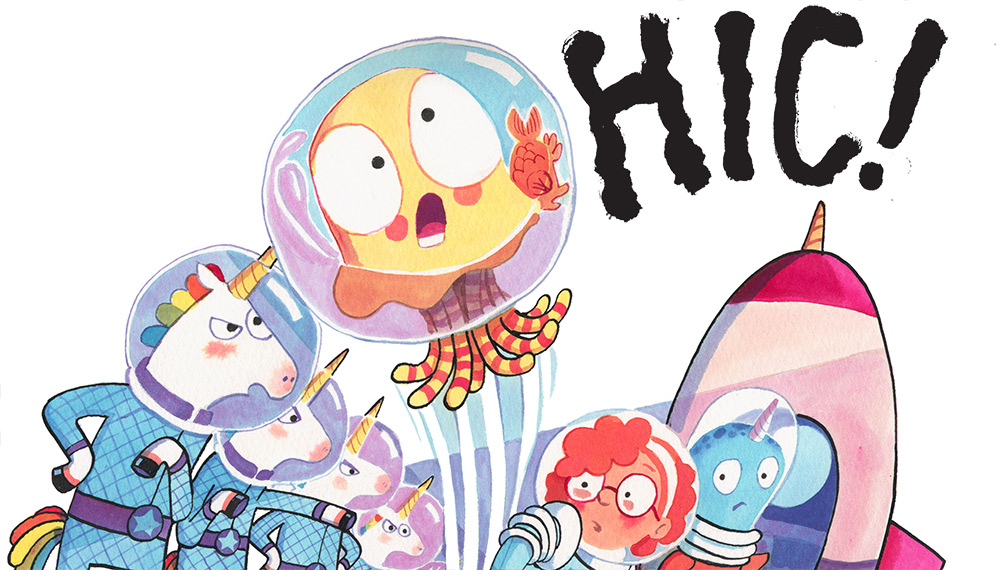 Find lots of free, fun book-related activities on Sarah's website: jabberworks.co.uk
Follow her #DrawingWithSarah videos and reply with your drawings: youtube.com/jabberworks
Twitter/Instagram: @jabberworks
Facebook: illustratrix
Similar Posts
Welcome back to our author Q&As! Today we're welcoming Sarah McIntyre.

Welcome back to our author Q&As! Today we're thrilled to be welcoming Tracey Mathias to talk about her YA novel Silence is Also a Lie!

As we commemorate the 75th anniversary of Victory in Europe Day (VE Day), we have never been more proud to publish Home Again, a collection of short stories and fact files about coming home from war.

Today we…
All categories