Congratulations Julia Donaldson
CBE
Congratulations Julia Donaldson
CBE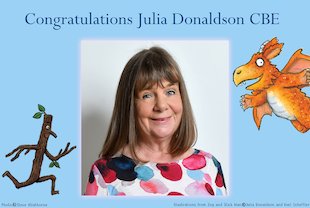 Scholastic UK and Alison Green Books are overjoyed to celebrate Julia Donaldson being honoured as a Commander of the Most Excellent Order of the British Empire (CBE) for her services to literature – as announced in The Queen's New Year Honours List.
Author of many of the best-loved picture books ever written, including The Gruffalo, Stick Man and Zog, Julia Donaldson was a much-praised Children's Laureate 2011-2013 and was awarded an MBE for services to literature in 2011. Julia has been the UK's bestselling author for six successive years and is currently in the top three bestselling authors in the UK (across children's and adult books). This Christmas, Zog (written by Julia and illustrated by Axel Scheffler) was the latest of her books to be made into an animated film which premiered on BBC One on Christmas Day. As well as writing, Julia tours widely to perform her songs and stories to children both across the UK and internationally.
In addition to her immense contribution to literature, Julia is a patron of a variety of charities including: Action for Deafness, Amaze, Artlink Central, Chestnut Tree House, Horsham District Year of Culture, The Savoy Theatre Monmouth, Read for Good and Storybook Dads.
Julia Donaldson says: "I am delighted to receive this honour, and regard it as an acknowledgement of the dedication of all those who work in the world of children's books – the authors, illustrators, publishers, booksellers, librarians, teachers and organisations and charities that promote the enjoyment of reading. I also want to take this occasion to highlight how the access of children throughout our country to reading and libraries is endangered with libraries shutting and the jobs of many professional librarians lost. This trend needs urgently to be reversed if we want today's children to have the same opportunities my generation had to become widely-read, informed and imaginative adults."
Catherine Bell, Co-UK Managing Director of Scholastic UK, says: "Congratulations to the wonderful Julia Donaldson whose spellbinding storytelling and gift with rhyme have had a transformative impact on children's books. Thanks to Julia more children experience books at a young age. The confidence Julia gives to parents and carers to read aloud to children establishes the reading habit in early life which is both a wonderful bonding experience, and sets up strong foundations for education. That aside, the main factor is enjoyment. Julia's books are unique in how they engage children and the adults in their lives – her characters are unforgettable and her stories are modern classics. Julia is a rare talent and her success in the UK, and indeed worldwide, is truly outstanding."
Dick Robinson, Chairman of Scholastic, says: "The joy of Julia Donaldson's storytelling reaches worldwide as parents and carers choose her books to instil a lifetime's love of reading. Julia is a marvellous performer of her own work, enchanting teachers and families across the world with dramatic presentations of her books. She travels extensively visiting schools, libraries, festivals, and theatres, from Sydney to Soweto, where children recite every word of her books by heart. Congratulations to Julia, a global ambassador for children's books."