Enter our half-term giveaway!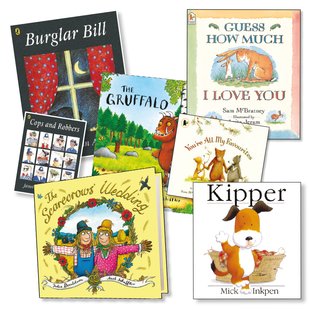 As it's half-term week, we're celebrating with another giveaway! This time, you could win our classic picture book pack. Featuring five picture books and two mini books, these are chosen by our editors because we think every child will love them.
To browse the full range of book packs available, take a look here and to win our latest favourite, enter now and read below for a full description of the pack.
Timeless treats for small people to share with your favourite grown-ups. Ones to warm your heart, make you smile and show you how special books can be. In this wondrous pack, you'll enjoy some of the best picture books ever created. You'll meet classic storybook buddies like Kipper and Burglar Bill. You'll discover the magic of all-time great authors, like Mick Inkpen and Julia Donaldson. Oh – and you'll get all these timeless favourites at a world-beating price. What more do you need to start your home library?
Similar Posts
We're excited to have a guest post from our friends at Big Game Hunters today – and a very exciting giveaway! Read on to find out why they think cosy reading spaces are so important for children, and how you can win one of…

Exciting news for Julia Donaldson fans – this Christmas sees the West End arrival of the stage adaptation of 'The Snail and the Whale'!

When we asked our Facebook followers to send us photos of their children's World Book Day costumes, we were blown away by the response! There were so many amazing entries, which made is very difficult to pick the winners….
All categories