Future Hero Q&A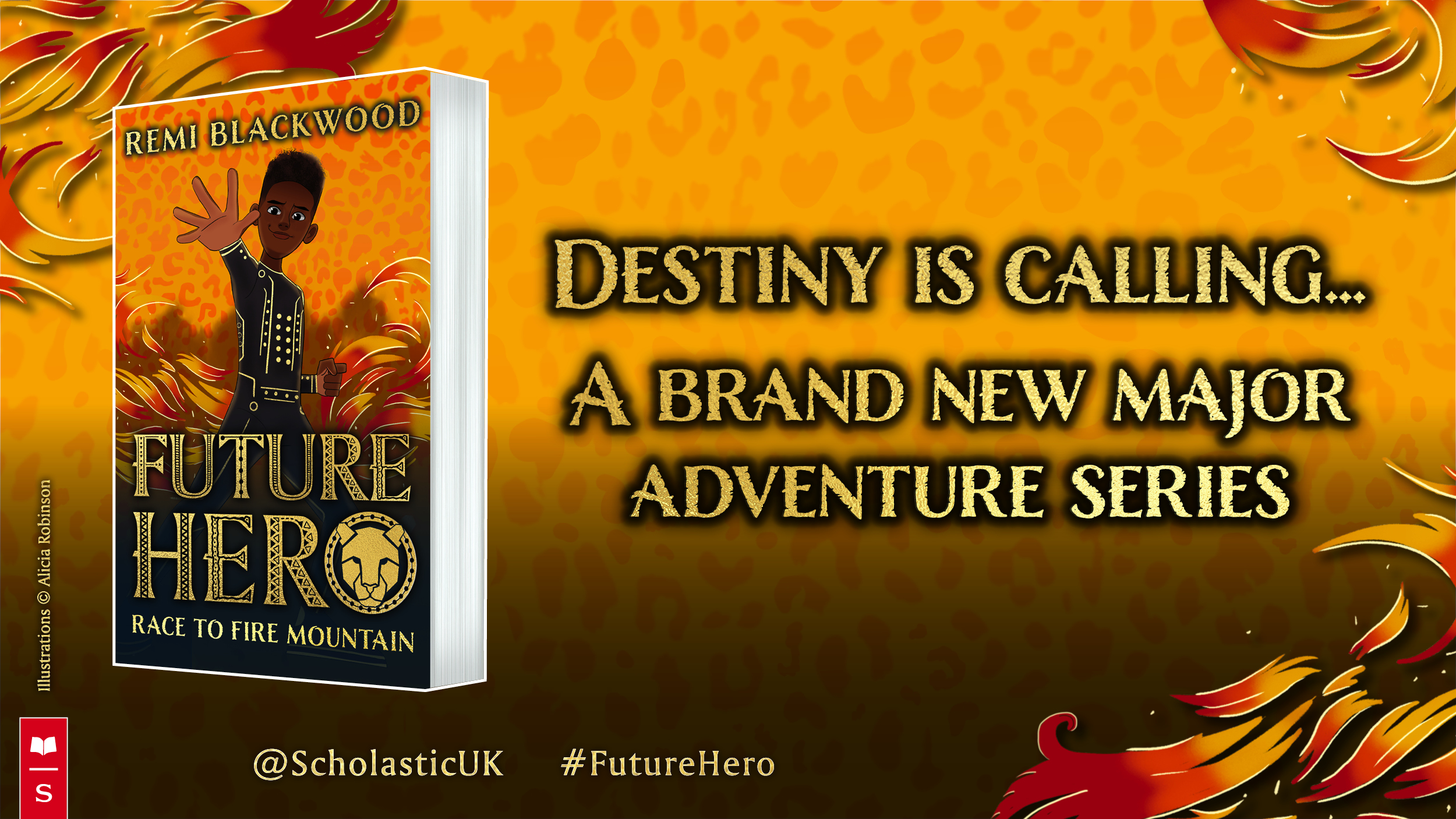 1. Welcome to the Scholastic UK blog! Can you tell us about Future Hero?
Told in short, accessible chapters, Future Hero is an action-packed series for kids aged 7+, perfect for fans of Beast Club and Black Panther.
Our story begins with Jarell, an ordinary kid from our world, who quickly discovers that the fantasy world he is obsessed with doodling is actually Ulfrika, the ancient-future kingdom of his ancestors. Soon, full time barber and part-time banished God of Doorways, Legsy, identifies Jarell as the heir of Kundi, making him Ulfrika's long-awaited Future Hero. Jarell is the kingdom's only hope of defeating the evil sorcerer Ikala for good.
But Ikala has other plans. Kundi left his powerful staff in the hands of Ayana, the Goddess of Storms & Rains – but when Ayana is attacked unexpectedly, she has to use storm magic to scatter the Staff of Kundi's four magical animals across Ulfrika to buy the prophesied Future Hero more time.
Now that Jarell has finally made his way to Ulfrika, it is up to him, and his new friend, the kind-hearted and brave warrior Kimisi, to hunt down the Iron Animals before Ikala gets to them first. The future of all our worlds depend on it…
2. Where did you get the inspiration for the land of Ulfrika?
The name is a clue! The ancient-future kingdom of Ulfrika is inspired by the rich and varied landscapes, histories and myths of the continent of Africa, as well as the mythologies of the African diaspora in the US, the Caribbean, and Brazil.
Of course, Ulfrika has its very own fantastical twist, with talking beasts like Were-hyenas and Painted Wolves roaming the kingdom, alongside warriors who possess ultra high-tech gadgets, like a gauntlet with the ability to whip up mini thunderstorms, allowing one to cloudport to their desired destination.
3. Are the characters in Future Hero inspired by anyone?
The seed for this idea was laid down more than 20 years ago! I used to take my younger brother to the barbershop and I was always struck by what a magical place it was. A place where young boys would go in and be transformed. A place of laughter and nurture. I wanted to find a way to celebrate that.
4. What's your favourite thing about Future Hero?
There are too many! But I suppose my favourite thing is creating a hero who reminds me of my son, or my brother (when he was a kid) or my nephew. I also wanted to create a series that had loads of action but also still felt accessible to all readers. I also love that I got to collaborate with others to create a rich world that celebrates some of the things I love most about Afro-futurism.
5. What's your favourite fantasy series?
I really enjoyed The Dark Is Rising by Susan Cooper when I was a child and also a book called The Woman Who Loved Reindeer by Meredith Ann Pierce. I also need to give a shout out to a book called Interstellar Pig by William Sleator which is more sci-fi but Future Hero is both a blend of fantasy and sci-fi and so I think I can get away with that one!
6. What do you hope readers take away from Future Hero?
Like his ancestor Kundi, Jarell makes good friends and loyal allies across the kingdom of Ulfrika by being kind, good-hearted and brave. In turn, in his deepest and darkest moments, he never has to fight his battles alone.
I hope readers are inspired by Jarell, who will never turn his back on someone who needs help. I hope Kimisi is a shining example of a warrior that is both brave and gentle, for the two always go hand in hand. And in Legsy, I hope readers take away the lesson that it is never too late to become a better version of yourself.
7. What can we expect in the rest of the series?
I think readers will be hugely excited to hear that tensions will escalate, new creatures and beasts will be introduced, and the reason for Legsy's banishment from Ulfrika will finally be revealed…All alongside perilous adventure, dangerous quests, and lots and lots of action.
The first book in Future Hero is out now!
Similar Posts
Tom Vaughan tells us all about his new book, BIN BOY , a story of friendship, pizza, fizzy drinks, a volcano secret-lair, a platinum-toothed crocodile… & a superhero sensation! Illustrated by Emma McCann.

Lisa Thompson, author of superstar bestseller The Goldfish Boy, is sharing her 5 favourite children's books from your January Book Club. Read on to find fantastic new fiction and an all-time classic!

On 6th September, illustrator Nicholas John Frith won the inaugural Klaus Flugge Prize for the most exciting newcomer in children's picture book illustration, for his book Hector and Hummingbird. A tale of an unlikely…
All categories