'Illustrator of the Year' Axel Scheffler on the power of children's books and the importance of togetherness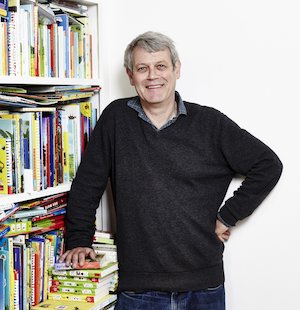 On 14th May, 2018, Scholastic was proud to see Axel Scheffler announced as the first ever British Book Awards' Illustrator of the Year. German-born illustrator Axel has been illustrating children's books since 1988; his first collaboration with writer Julia Donaldson,
A Squash and a Squeeze
, began a partnership which would see Axel and Julia become the UK's number one picture book pair. From
The Gruffalo
to
Stick Man
, Axel's interpretation of Julia's characters are instantly recognisable and loved internationally. Five of their books have been made into films, most recently
The Highway Rat
. Axel's dedication to important causes include active support of literacy charities, conservation charities and charities offering support for the refugee crisis. In his acceptance speech for Illustrator of the Year, Axel shared how children's books are one of the UK's most successful exports, and how their universality demonstrates the power and importance of sharing stories across continents.
Axel Scheffler's acceptance speech for the inaugural Illustrator of the Year Award at the British Book Awards 14 May 2018:
I am very grateful to receive this inaugural Nibbie for illustration. I'd like to thank my three main publishers: Macmillan, Scholastic and Nosy Crow; Kate Wilson, who has published me for thirty years; Julia Donaldson, with whom I have forged an extraordinary – and extraordinarily successful – partnership; and I'd like to thank readers – the parents and the children who have grown up with the books I have illustrate; and The Bookseller and the judges who chose me, an foreign EU citizen in Brexit times – that's a nice gesture.
But I also accept it with a heavy heart and maybe even a slightly bitter feeling – it feels like a consolation prize. Or even a farewell gift. I know that this is not the place for long speeches, but as you are all gathered here, I can't pretend it's business as usual. I'll take only a few minutes, and then the party can go on.
It's just ten months until "Freedom Day" – next March – and I – and my fellow EU citizens, many working in the UK book industry – are still living in uncertainty. We have, so far, no guarantee that we can still live and work here in the future. In a worst-case scenario, I might not be allowed to stay here by the time my next book with Julia Donaldson is launched.
Michael Morpurgo wrote movingly, "My uncles fought for peace, not for Brexit". He wrote that Britain doesn't really like the rest of Europe. And he's right. That hurts and it makes me angry every day.
The UK has been my home for 35 years. There would have been no Gruffalo without the EU facilitating my study here. And, even if I had, somehow, studied in the UK, I would have had to leave after my studies ended in 1985. So there would never have ben the successful Anglo-German joint venture Donaldson-Scheffler. I know that my contribution is acknowledged here tonight, and, once again, I am grateful.
But I would like to mention another person who came from Germany under completely different circumstances who is here tonight: my friend, Judith Kerr. Here, in this room, you have a refugee from the Nazis and a peace-time EU immigrant giving something for the families and the economy of the UK. But after the Brexit vote it feels, despite our contribution, as if this country is saying, "It was all a mistake! We don't really want you after all." A Brexiteer would, of course, say, "Of course we want them when they make money for us." But how can you gauge the future contribution of a young girl, as Judith was when she came here, or a 25 year-old student, as I was.
It makes me sad, and I worry when I think of a post-Brexit future for the UK families, especially the children, who are growing up with our books. What went wrong? What did they miss, the parents and grandparents who were reading
Room on the Broom
with its message of the importance of solidarity, partnership, friendship and kindness? The book wasn't called No Room on the Broom.
So beware, Brexit Britain – if you have no friends in a hostile environment – the dragons may come and get you.
© Axel Scheffler 2018
Picture credit: Liam Jackson
Similar Posts
Unicorn is back… and he's still grumpy! Unicorn, Narwhal, Mermaid and Jellyfish are ready for an adventure, and, as Unicorn quite rightly points out, nothing is more adventurous than travelling into SPACE….

We're here to help with creative and educational activities for children to do at home. Find a wide range of free downloadable activity sheets to tie in with all of your favourite book characters. Fun stuff ahead!

Catherine Jacob, author of There's a Troll on My Toilet, tells us all about her special Christmas traditions.
All categories