Join us for a new series of Reading
CPD

workshops this autumn

Teaching children to read is a complex process. Turning words on a page into meaning and understanding and with it the desire to read for pleasure is something that takes time, patience and a number of different strategies.

Countless research papers have been written into how to teach children to read, and some have affected national policies, such as the Independent Review of the Teaching of Early Reading, 2006, which became the underlying framework for teaching reading in England.

In their 2018 research paper, Ending the Reading Wars: Reading Acquisition from Novice to Expert, Castles, Rastle and Nation are very clear that "decoding and linguistic comprehension are both necessary, and neither is sufficient alone. A child who can decode print but cannot comprehend is not reading; likewise, regardless of the level of linguistic comprehension, reading cannot happen without decoding."

If the goal of reading is understanding what has been read, and that decoding and comprehension are both essential to this process, how do we get there? A key report published in 2000 by the National Reading Panel identified the 'big five' as phonemic awareness, phonics, fluency, vocabulary and comprehension. More recently you'll find references to a sixth pillar of reading, 'oracy' and at Scholastic, we've added our own seventh pillar: 'reading for pleasure'.

Teacher training

A key area of concern is how much initial teacher training and CPD is given to teachers, and when you look at the results of the research that we conducted below you can see that there is a need for teachers to have access to much more training in how to teach children to read.
Our research with teachers across the UK last week showed that 75% of respondents received less than a day of formal training in teaching children to read during initial teacher training; and 64% of respondents have received less than a week of

CPD

since qualifying.
From the nearly 1500 responses from schools that have completed the Scholastic Reading Audit, we can see that Headteachers and Literacy Coordinators feel like teachers are most confident about teaching phonics (only 26% of respondents thought their staff needed training), but well over a third of respondents thought their teachers needed additional training in teaching comprehension, especially with striving and gifted readers.
How Scholastic can help
As a direct result of this research and the conversations we have had with teachers and leaders all over the country, we are launching our Scholastic Reading CPD programme in September and our schedule for the Autumn term is below. Designed with all staff members in mind, our virtual workshops are an ideal way to make literacy the focus of staff meetings or training sessions as they will be broadcast live on Wednesday afternoons at 3:45pm. Each session will be free of charge to watch live.
Here's an overview of our autumn schedule:
15th September, Pie Corbett will be launching the

CPD

series with creating and using a reading spine.
22nd September, Little Wandle Letters & Sounds Revised will be talking all things systematic synthetic phonics
29th September, Sue Bodman and Glen Franklin from the

UCL

Institute of Education will focus on delivering effective guided reading.
20th October, Professor Tim Rasinski will help us with improving reading achievement through fluency.
3rd November, Joy Allcock will focus on catch-up phonics for ages 7+.
17th November, Stephen Graham will look at understanding the benchmarking of progress in reading.
1st December, Jill Eggleton explains what reciprocal reading is, and how to do it simply in the primary classroom.
Each workshop will provide practical advice that that will have an immediate impact in schools and classrooms. What's more, when teachers register for an event, they will also receive an exclusive discount for the linked books and resources covered in the session and the chance to talk to an expert who can help you implement some of the changes in your school.
Sign up!
To sign up, visit www.scholastic.co.uk/reading-cpd. All sessions will be free at the time of broadcast.
I look forward to seeing you there!
Chris Ratcliffe
Head of Education, Scholastic UK.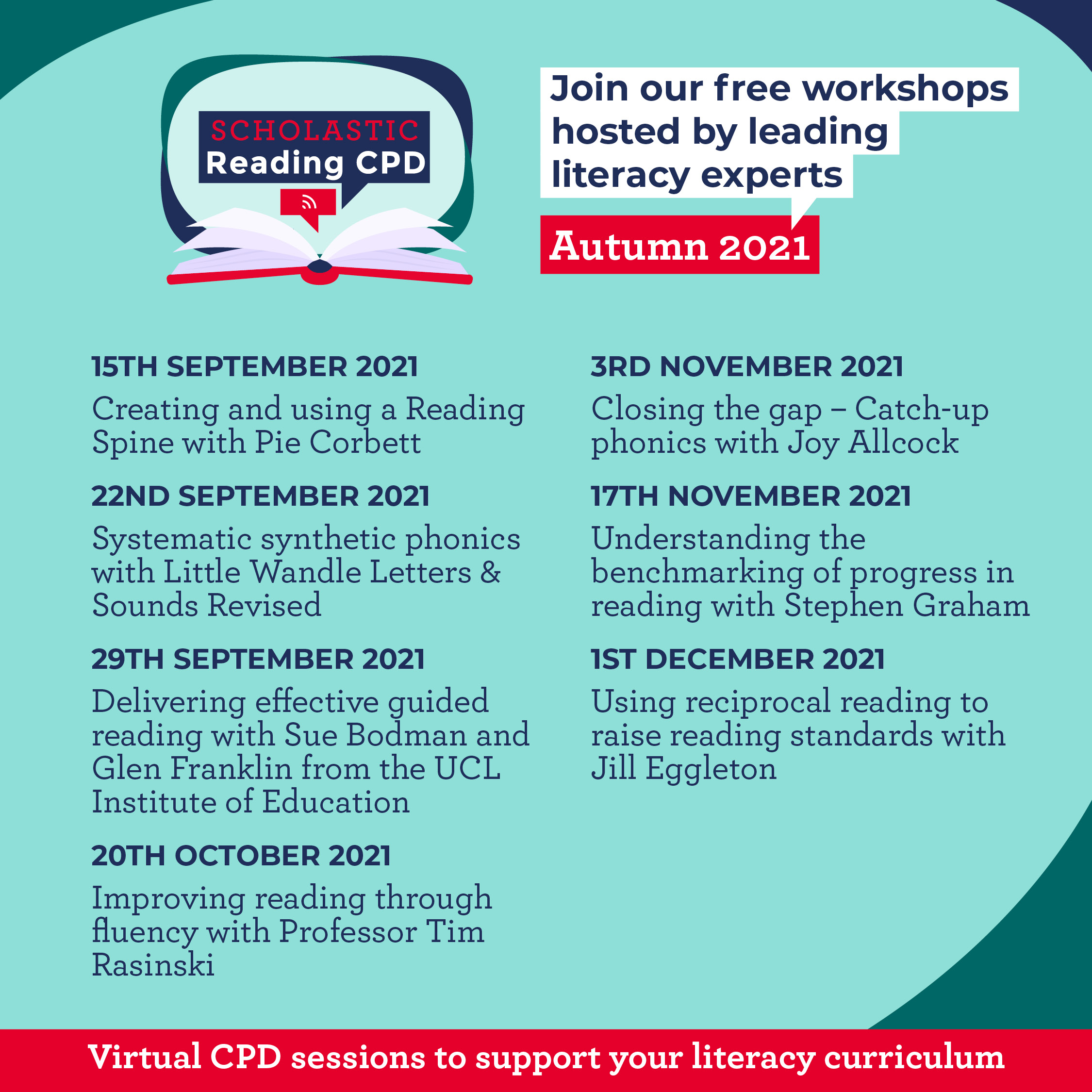 Similar Posts
We're rounding up just a few of the things you can look out for from us this month in children's books, education, Book Clubs and more.

Resource Bank presents our top 50 places to find the best teaching resources, in collaboration with Collaboroo!

3rd September 2019 will mark the 80th anniversary of the start of World War II, and events are being held across the country to commemorate this significant period in history.
All categories