Q&A with Tom Vaughan
1. Tell us about your book BIN BOY.

Bin Boy is the story of a 10-year-old boy, Billy Benbow, who hates his new, smarmy, try-hard stepdad Phil. So when Billy discovers that Phil is actually a secret super-villain with plans to destroy the world, it is the perfect excuse to break Phil and his mum up. But gathering evidence about a super-villain is harder than it looks, and when Billy accidentally becomes 'Bin Boy' – a superhero sensation – things become a whole lot more complicated. Suddenly the fate of the global population is on Bin Boy's shoulders. Can he save his family and the entire world?!

2. What inspired you to write BIN BOY?

One day, I had a little ping of an idea for a story: What if my step-dad was a super-villain? I guess, at that point, I could have taken the story in countless directions. I love writing funny books, so that part of it was a given. But I had recently lost my own father to a long battle with illness. So when I sat down to write it, I ended up telling the story of a boy – Billy – who had also lost his father, and was also struggling to accept his new reality. However, Billy's new reality – having a needy, evil step-dad with designs to take over the world – was about a billion times harder than my own.

3. What's your favourite part about writing a funny book?

The idea that I might, in some tiny way, be shaping kids' senses of humour. My own sense of humour is 100% the product of everything I read and watched as a kid. I love it. I love laughing at things – and meeting people who laugh at the same things – more than anything else in the world. It's the greatest gift you can give and I'm indebted to all the people who helped me see the world this way.

4. Who's your favourite supervillain?

I love any supervillain who is just too preposterous to exist. I grew up on a diet of 1960s Batman – inexplicably still repeated on Channel 4 in the mid 1990s – and Roger Moore James Bonds. If any of those supervillains had spent less time worrying about their branding and more about successfully executing their evil plots, they probably wouldn't have been foiled by a couple of languid middle-aged men. If I had to namecheck one supervillain, I'd go for Dr Evil in Austin Powers, because all of the above feeds into him, plus a big dose of neediness.

5. What's your earliest reading memory?

My dad reading my The Hobbit in a campsite in France. Also, having Watership Down read to me because I'd seen the movie. I remember noticing that no rabbits actually die in the book and wondering – even as a five year old – why they made the cartoon such a traumatising bloodbath. I still question that to this day.

6. What are your top tips for aspiring writers?

Learn how a story works. I could always write nice sentences, but it wasn't until I sat down and discovered how a story actually works, that I learnt how to plot and felt I could write a novel. There are tonnes of 'How To' books on storytelling; read them, then see if you can notice the rules they lay out in everything you read and watch.

7. What books are you most looking forward to reading in 2021?

I haven't yet had a chance to read Sam Copeland's Uma and The Answer to Absolutely Everything but I'm really looking forward to it. I love the way that he can tell a rip-roaring fart joke on one page and then, within just a couple of pages later, access the loneliness and anxiety that can make childhood so discombobulating. I also loved the Beast and the Bethany and The Super Miraculous Journey of Freddie Yates last year and can't wait to dive into more from Jack Meggitt-Phillips and Jenny Pearson.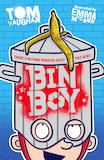 BIN BOY

by Tom Vaughan and Emma McCann is published in July 2021.
Similar Posts
Judy Hepburn tell us all about her new book, I Was There… Ira Aldridge, the latest in Scholastic's I Was There series. A perfect introduction for younger readers into stories from the past, allowing children to…

Lisa Thompson, author of superstar bestseller The Goldfish Boy, is sharing her 5 favourite children's books from your January Book Club. Read on to find fantastic new fiction and an all-time classic!

We're welcoming Lou Kuenzler, author of the Shrinking Violet, Princess Disgrace, and Bella Broomstick series. Today Lou's joining us on the Scholastic Blog to talk about her brand new book *_My Family and Other…
All categories