Scholastic Introducing…
JESSICA GOODMAN
Scholastic Introducing… Jessica Goodman, author of They Wish They Were Us.

"Scholastic Introducing" is a series of interviews with authors set to publish their debut books for children or young people in 2021. In this Q&A we introduce Jessica Goodman and her debut read-in-one-sitting thriller, THEY WISH THEY WERE US.

1. Tell us about THEY WISH THEY WERE US

THEY WISH THEY WERE US follows Jill Newman, who is in her final year at the exclusive Gold Coast Prep. She and her friends are part of an even more exclusive secret society within Gold Coast called The Players. But three years before, her best friend Shaila was murdered during the Players' initiation. At the time, everyone thought her boyfriend Graham Arlington was the culprit. But during Jill's final year at school, she starts getting text messages suggesting Graham was not the one to kill Shaila, and Jill realizes a killer may still be on the loose. In fact… they may even be within her world at Gold Coast. On a quest to find out who really killed Shaila, Jill begins to realize that finding out the truth may destroy everything she's worked for in the high stakes world of Gold Coast.

2. What inspired you to write THEY WISH THEY WERE US?

I wanted to write a story about the dangerous pursuit of perfection that so many young women face—especially when they live in insulated, privileged worlds. I was also inspired by my own intense, intimate friendships with other women in my life. I wanted to explore how deeply these relationships can impact you, especially when you're a teenager. Jill has extremely tight but also tense bonds with Shaila, Nikki, who runs the Players, and Rachel, Graham's older sister who fled Gold Coast after her brother was convicted. All of them challenge each other to find their own agency in their lives and understand their privilege in ways they could not do alone.

3. What's your favourite thriller and why?

GONE GIRL by Gillian Flynn! That was the first thriller I read that made me gasp out loud when I got to that shocking twist (if you know, you know!). Flynn is a master of convincing you so deeply of one thing—and then totally reversing course so you're left shocked and delighted. This book is a dream to read!

4. Can you tell us anything about the TV adaptation of THEY WISH THEY WERE US?

I'm so excited about this! Sydney Sweeney is on board to star as Jill Newman and Halsey will play Rachel, Graham's older sister. These two women are such a force and I'm so excited to see them bring this story to life. It's currently in development at HBO Max so hopefully we'll be watching it on our screens soon!

5. What's your all time favourite book?

LUCKIEST GIRL ALIVE by Jessica Knoll. The twists in this one are iconic! Plus, it's the novel that made me want to write thrillers.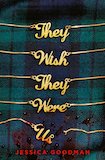 6. Top tips for creating suspense in your writing?
Every scene needs to move the plot forward in some way. Even if it's in the form of backstory or character development, make sure that something happens to churn the engine of the overall mystery. That's the way to keep readers turning pages!
They Wish They Were Us by Jessica Goodman is published in March 2021.
Similar Posts
Welcome back to our author Q&As! Today we're thrilled to be welcoming Tracey Mathias to talk about her YA novel Silence is Also a Lie!

Lisa Thompson, author of superstar bestseller The Goldfish Boy, is sharing her 5 favourite children's books from your January Book Club. Read on to find fantastic new fiction and an all-time classic!

Bestselling author of young adult novels Melinda Salisbury picks her fantasy cast for her heart-stopping duology State of Sorrow and Song of Sorrow.
All categories