Talk to the Lollies authors!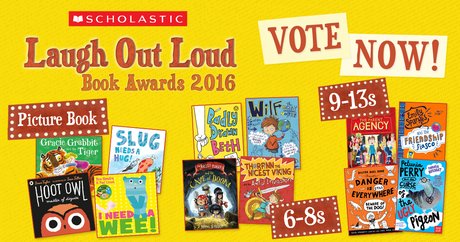 Voting is now open for the Laugh Out Loud awards! We want to get as many schools and teachers involved as possible, and voting closes in June, so you still have plenty of time to get reading and choosing your favourites.

The aim of these awards is to celebrate the very funniest books for children, and the brilliant authors who write them. We wanted to give you the opportunity to get to know some of these talented writers a little better – so, we've arranged hour-long Twitter chats with some of the shortlisted authors.

The author chats will take place as follows:
Picture Books: Sue Hendra and Paul Linnet – I Need A Wee – at 1pm (GMT) on Thursday 19th May
6-8 years: David Macphail – Thorfinn and the Awful Invasion – at 4pm (GMT) on Thursday 26th May
9-13 years: Pamela Butchart – Petunia Perry and the Curse of the Ugly Pigeon – at 4.30pm (GMT) on Tuesday 24th May

To take part, all you have to do is tweet in your questions to the author you want to ask (Twitter handles are above, just click on each author's name) and @ScholasticUK with the hashtag #Lollies, then they'll do their best to answer them for you! Questions can be on anything you like, from writing funny fiction, to the best way to share it with your children or class. The authors taking part would also love to hear some questions directly from the children reading their books – so, whether you're reading these books at home with your child or in class with your pupils, get them thinking about what they'd like to ask and we'll make sure they get their questions answered!

If you don't have Twitter, you can still join in – simply send your questions to funstuff@scholastic.co.uk beforehand and we'll tweet on your behalf (you can then view the chat as you would a normal webpage). We'll also be collating each conversation and sharing them on the blog, so you'll also be able to see the answers to your questions right here.
Similar Posts
Every Book Club, our experts pick out the books we think you'll really love and include them at a special price – they could be well-established classics loved for generations, or more modern reads that have acquired…

Every time we launch a new Book Club, we like to pick out some of our very favourite books. It's never easy – we're talking a lot of great books here – but to get you started, here are nine books we're especially excited…

This summer, we're asking children – where will you go?

To become a book adventurer this summer, all children have to do is download our free make-at-home passport. Once they've started reading and checking places off…
All categories