The Big Toddle is back!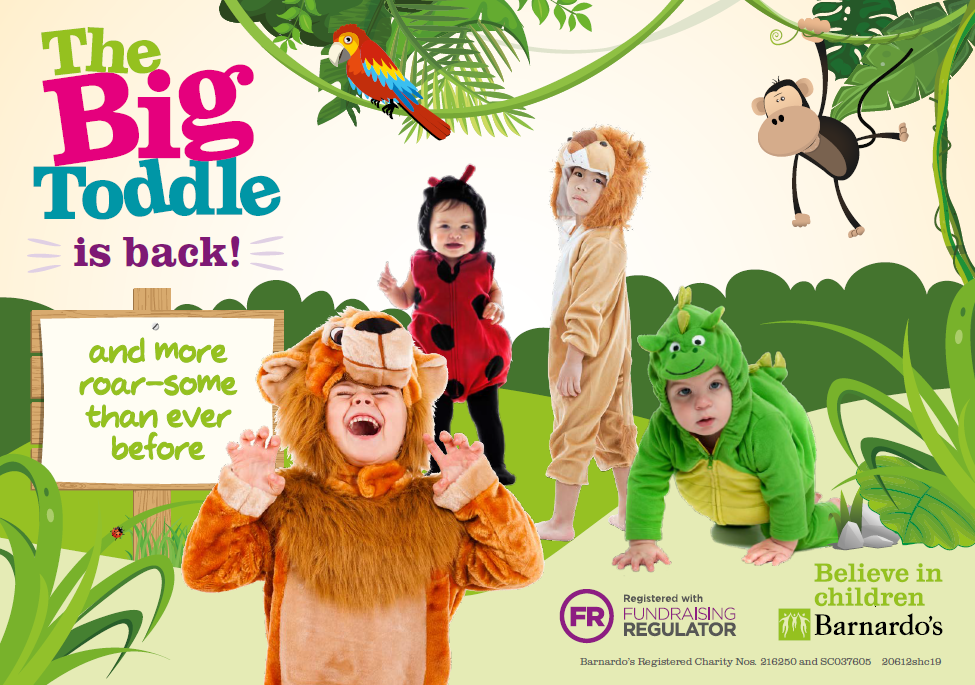 Little feet can make a big difference this June as Barnardo's Big Toddle returns to raise money for vulnerable children

Barnardo's is once again calling for children, families and nurseries to join in the fun this summer as Big Toddle Week returns with an animal theme from June 24th – 30th.
With lots of opportunities for creative dressing up and exclusive animal-themed early years learning resources available to those who register, this year's Big Toddles are sure to be roar-some!
Barnardo's support some of the most vulnerable children in the UK. Each life-changing service run by Barnardo's empowers children to feel as brave as a roaring lion, as confident as a cheeky monkey and as fearless as an adventurous shark.
Parents, carers and nurseries are encouraged to hold their very own Big Toddles to help raise vital funds; this could involve a community Big Toddle, one for families and friends or one organised by nurseries or primary schools.
The charity's public Big Toddle at Dudley Zoo also returns on June 11th, where families can really embrace the animal-theme and enjoy a Toddle around the zoo.
Barnardo's Chief Executive Javed Khan said: "The Big Toddle is a great opportunity for the under-5s to have fun with their friends and families and raise money to help vulnerable children.
"Whether you organise your own Big Toddle, take part in your nurseries' event or join in the fun at Dudley Zoo, it is sure to be a really fun day.
"We are really grateful for everyone taking part as the money raised helps our vital services continue to support hundreds of thousands of vulnerable children, young people, parents and carers."
Those who register by May 20 will receive a Big Toddle pack containing information and fundraising ideas. To register to hold your own Big Toddle, find out more about the Dudley Zoo Big Toddle or for further information, visit www.bigtoddle.org.uk or call 0800 008 7005.
Sign up now
Similar Posts
A new report published last month by a coalition of 12 early years sector organisations highlights the importance of the Characteristics of Effective Teaching and Learning in the Early Years and suggests that it should be…
All categories