The creation of The Dinky Donkey!
Katz Cowley is the illustrator of the hit viral sensation The Wonky Donkey which was the first children's picture book she ever illustrated. Since the book's runaway success, she has illustrated more brilliant books, including the hilarious Willbee the Bumblebee. Katz has been kind enough to send us pictures of her work from her sketchbook, including pictures from the brilliant follow up to The Wonky Donkey, her latest book The Dinky Donkey.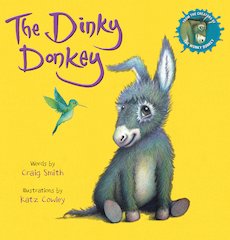 As Katz is just beginning to draw her illustrations, they look like this!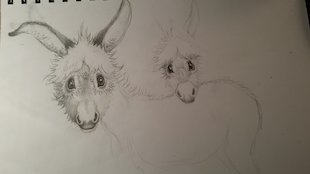 There's no colour, and you can only see the donkey's faces – but they still look very funny, and very cute.
When Katz adds colour, and her illustrations are ready for the final book, they look like this…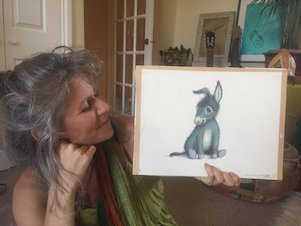 You can see the
very
cute looking Dinky Donkey here! You might recognise this illustration from the cover of
The Dinky Donkey
.
Of course, Katz doesn't just draw donkeys…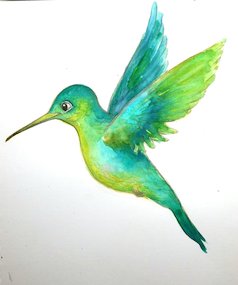 It's wonderful to see all the detail and colours when you look at the illustrations up close!
Discover more of Katz's illustrations in her books,
The Wonky Donkey
,
The Dinky Donkey
and
Willbee the Bumblebee
.
Out now, The Dinky Donkey!
The Wonky Donkey had a child… it was a little girl! Hee haw!
Get your copy of this laugh-out-loud picture book today.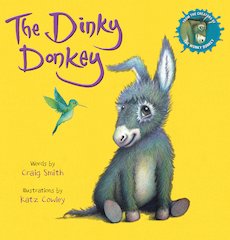 Buy The Dinky Donkey
Similar Posts
Catherine Jacob, author of There's a Troll on My Toilet, tells us all about her special Christmas traditions.

Welcome back to our author Q&As! Today we're welcoming Sarah McIntyre.

Welcome back to our author Q&As! This month we're welcoming Nicola Davies.
All categories