Book of the Month: September!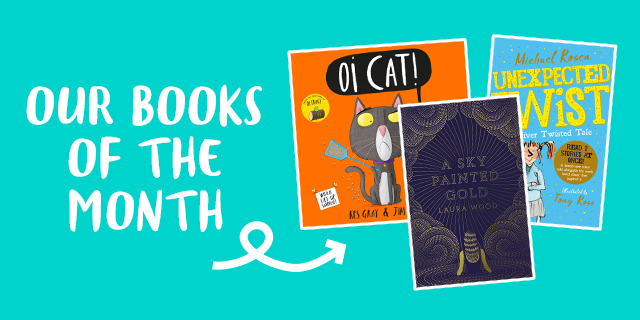 For our September Book Club, our literacy experts have chosen three Books of the Month to inspire you and your pupils to share books in the classroom. For younger readers aged 0-6, give Oi Cat! a go; for children aged 7-11, try Unexpected Twist: An Oliver Twisted Tale, and teenagers will love A Sky Painted Gold.
Each of the books is available as handy class packs in sets of 6 or 30, or of course, individually. You can also find plenty of useful resources, activities and recommended reading lists for each book here.
Oi Cat! by Kes Gray

Mini Book of the Month

Uh-oh. Why does Cat look so grumpy? Maybe he's fed up of people shouting 'oi'. (After all, it's rather rude.) But actually, the problem is worse than that. The problem is Frog's stupid rules. According to Frog: cats sit on gnats, dogs sit on logs, raccoons sit on macaroons, armadillos sit on pillows and chicks sit on bricks. But wait! That's fine if you're an armadillo, but Cat doesn't like sitting on gnats. They keep biting his bottom! Why can't cats sit on bats, or hats, or (best of all) nice soft mats, like they're supposed to? Will Frog and Dog let him change the rules?
Unexpected Twist: An Oliver Twisted Tale by Michael Rosen

XD Book of the Month





If any story is begging for a twist, it has to be Oliver Twist, right? The clue is in the name! And who better to do the twisting than all-time funny genius and nonsense verse maestro, Michael Rosen? This story is going to get spun all around, helter-skelter style! Shona and her dad are moving house, and the rules at Shona's new school are pretty weird. She keeps getting into trouble without realising! But when she's unexpectedly given a mobile phone, Shona starts to suspect there's something fishy about the new boys she's met. Not all gifts come for free, after all…






A Sky Painted Gold by Laura Wood

Teen Book of the Month




The Great Gatsby meets I Capture the Castle in this gorgeously retro page-turner. Everything that glitters isn't gold… Lou is sixteen. She dreams of being a writer. She's ready for something big to happen. Something that changes her world. But that's hardly likely to happen in her sleepy Cornish village, is it? That is, until the Cardew family move back to their grand house, which has stood empty for years. When Lou meets the owners – a dashing brother and his beautiful sister – she's swept into a world of glamour and moonlit cocktail parties. It's going to be a summer beyond her wildest dreams. But will Lou find her feet – or lose her heart?




Similar Posts
Whether you're looking for Donaldson or Walliams we've got something for you! Here are a few of our favourite reads from the May Book Club to see you through to the bank holiday weekend.

We've got the perfect book to unwrap children's imaginations this Christmas with our best ever Christmas Bookshop overflowing with over 600 books, money saving packs and fabulous, festive treats expertly selected and…

We've got plenty of brilliants reads for children to get stuck into! Refresh your memory on how to set up your Book Club and then get browsing…
All categories