Our highlights from your May Book Club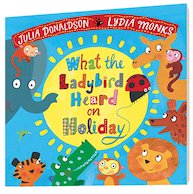 Psst! Have you heard the word about your favourite ladybird? She's off to the big city for a break. But Hefty Hugh and Lanky Len are up to their naughty tricks again. Will the ladybird be able to stop this terrible twosome – with some help from the noisy animals at the zoo?
A witty (and glittery) new rhyme in the bestselling Ladybird series. Written by the Julia Donaldson, all-time favourite author of The Gruffalo. 3-6 years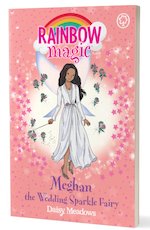 A royal wedding is fast approaching, and this pretty fairy has a starring role! Meghan has the special job of looking after people's weddings. But when naughty Jack Frost steals Meghan's triple-jewelled engagement ring charm, he breaks the precious spell of love. Now couples and best friends keep falling out! Can Meghan save the magic of marriage in time? This is a charming one-off to tie in with the royal wedding!
This book encourages children to join in the celebrations and is a lovely way to build up reading confidence with longer fiction. 7-10 years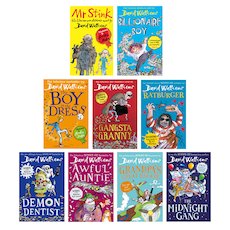 A whopping bag of giggles from the reigning king of funny. Not content with swimming the Thames, cheeky David has become an epic laughter hero. He's even pinched Roald Dahl's funny crown. And now, lucky readers, we've bagged you tons of his super-silly stories in one even sillier pack. Mr Stink, Grandpa's Great Escape, Ratburger, The Midnight Gang!: they're all in here. Chuckle till it hurts. 7-10 years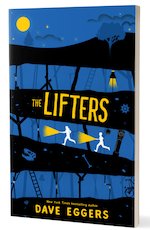 Gran Flowerpetal is the new kid in the creaky old town of Carousel.
(Yup: he is a kid. Don't be fooled by the name.) There doesn't seem to be much going on in Carousel. Well, apart from the crazy sinkholes that swallow entire houses without warning. But below ground, as Gran soon discovers, quite a lot is happening. None of it good. Now it's up to the Lifters to bring hope back to Carousel, and stop the whole town from being swallowed up…
This is the first children's book by David Eggers (author of The Circle). Full of deadpan humour and surreal twists, this book is for fans of Neil Gaiman, Louis Sachar and Jerry Spinelli. 8-12 years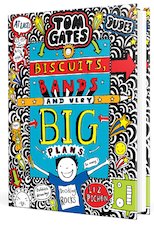 Britain's favourite doodle genius and caramel wafer-muncher is back!
Tom Gates and his band The DogZombies have some big plans up their sleeve. First they need to risk snooping in Delia's room to catch a glimpse into her secret diary. Then, they're going to write a new smash-hit single. Plus, Tom's got to doodle as much as possible, especially when the pea-brained Marcus is watching! It's lucky Tom's fuelled by biscuits, or he'd never have the energy for it all…
This is the latest blockbuster from Tom's bestselling series and has won Red House and Waterstones prizes. 9-12 years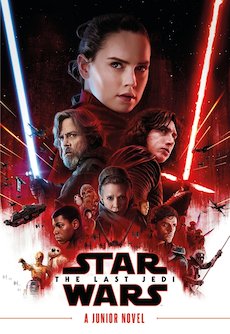 Han Solo is dead. Luke Skywalker has turned away from the Force. Kylo Ren has waged war against his own mother. It seems the world is being consumed by darkness. Into this bleak picture steps Rey – a brave young warrior keen to learn the ways of the Jedi. She's on a mission to bring Luke back to the Resistance. But is she too late? And what's the eerie link between Rey and her rival, Kylo Ren? Is this the end – or just the beginning? Only time (and this book) will tell…

192 pages of battles, adventures, thrills and spills.This book tells the story of the blistering new STAR WARS™ film featuring new insights into the characters and their actions. 11-14 years
For all the books featured in our May offer please visit: www.scholastic.co.uk/clubs
Similar Posts
As of September 2016, put your Scholastic Rewards towards books and resources from our current leaflets, Schools Catalogue, or online shop – AND brand-new educational books and resources.

If your children or pupils love David Walliams' laugh-out-loud books, we have some brilliant suggestions for them whilst they're waiting for his new book!

Every Book Club, our experts pick out the books we think you'll really love and include them at a special price – they could be well-established classics loved for generations, or more modern reads that have acquired…
All categories