Calling all teachers! Free workshops at the
LEGOLAND

® Windsor Resort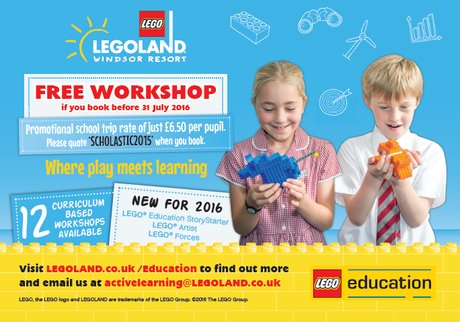 How does the idea of a school trip to the LEGOLAND® Windsor Resort sound – at a discounted rate and with a free, educational workshop thrown in?! Take part in any of our Book Fairs or Book Clubs over the next couple of months, and we'll offer you just that. Read on to find out more!
LEGOLAND is one of those rare places that really is just as fun as it is educational – the theme park runs a series of specifically designed workshops, all based around the core principles of STEM, which you can book alongside your school trip to the park. All of them use LEGO® (of course!), and there are plenty of options that vary by age range, so you can choose the one that's exactly the right fit for your class. They can also be adapted for SEN, or if your class has any other particular requirements.
Once you've completed your workshop, your pupils will have all day to explore the 55 rides and attractions, and you can navigate your way around the resort with the National Curriculum Map – making sure each attraction covers one of your learning objectives.
Book before 31st July 2016, and your class will be given a free workshop – and you'll also be given the brilliant promotional school trip rate of just £6.50 per pupil by quoting 'SCHOLASTIC2015' when you book.

For further details, visit legoland.co.uk/education or email at activelearning@legoland.co.uk. And don't forget to browse our extensive range of exciting LEGO books, to read alongside your trip!
LEGO, the LEGO logo, the Brick and Knob configurations and LEGOLAND are trademarks of the LEGO Group. ©2016 The LEGO Group.
Similar Posts
Tell us your favourite books for use in the classroom and you could be in with a chance of winning 100 free books for your school!

Do you have a favourite book or books that you just love teaching in class? We need…

We love reading, but sometimes children need that little extra push. Whether you're a parent or a teacher, here are five quick ways you can help children become more receptive to the idea of reading for pleasure.

Every Book Club, our experts pick out the books we think you'll really love and include them at a special price – they could be well-established classics loved for generations, or more modern reads that have acquired…
All categories