Commemorate VE Day with Home Again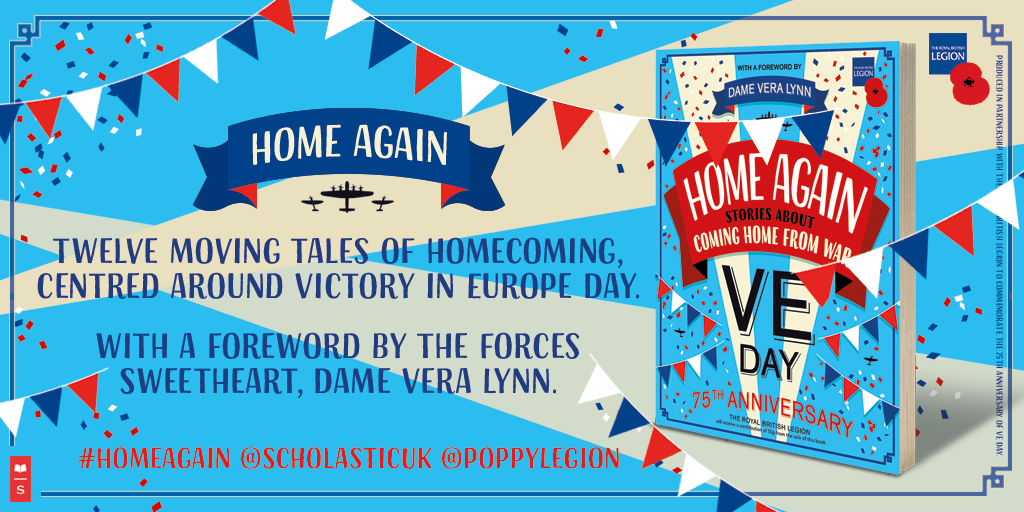 As we commemorate the 75th anniversary of Victory in Europe Day (VE Day), we have never been more proud to publish Home Again, a collection of short stories and fact files about coming home from war. Today we interview contributing author Jim Eldridge about the importance of VE Day and books such as Home Again.
1. What does VE Day mean to you?
It meant a chance for peace after 6 years of non-stop war. I was just a 6-month-old baby on VE Day, but it meant there was a chance for me to grow up in a world without constant bombing.
2. What did contributing to Home Again mean to you?
The chance to inform young readers of what their grandparents and great-grandparents went through during this terrible time, and for them to understand and appreciate those wartime experiences. It puts in context what people are experiencing now and gives them hope that it will be alright in the end.
3. One of your stories in Home Again is about a female codebreaker – was there anything in particular that made you want to tell the story of someone whose contributions to the war are often overlooked?
Yes, there's so much the public isn't aware of. I've often felt the role of women in World War 2, as active participants as opposed to in a supporting capacity, has often been overlooked. At Bletchley, many of the code-breakers were women (e.g. the late Baroness Trumpington) but were not given the same accolades as their male counterparts (e.g. Alan Turing). Equally overlooked were the female pilots of the Air Transport Auxiliary, who flew Spitfires, Hurricanes, Lancaster bombers, etc, but whose existence was kept a secret until the 1990s. And, of course, there were the women of the SOE (Special Operations Executive) who carried out dangerous sabotage missions behind enemy lines.
4. Your other story revolves around a young bombardier who entered the remains of a concentration camp. It is not a story of triumph, but of horror. Why is this an important story for children to read?
Too often war is portrayed as a heroic enterprise, and we should be grateful for those acts of heroism. But there is a darker side to war, and the concentration camps of WW2 and their part in the Holocaust must never be forgotten. It is often said that we must remember and learn from history or we risk repeating the same mistakes again, and this is certainly true of the treatment of civilians in war. Writing from the POV of a bombardier, the shock of seeing it through his eyes, has an emotional impact.
5. With everything that is happening in the world today, do you believe the stories and lessons in Home Again are still relevant to today? Why or why not?
The stories in Home Again are, unfortunately, very relevant, with wars continuing across the globe. However, these are stories of survival. The idea of hope, of light at the end of the tunnel, that working together we can overcome anything – that is the human spirit and more relevant than ever.
6. How will you be commemorating the anniversary this year?
Myself and my wife both have memories of our families being involved in the War. We're in lockdown, so we will watch the celebrations on TV, raise a glass and remember that if they can survive that, we can survive this.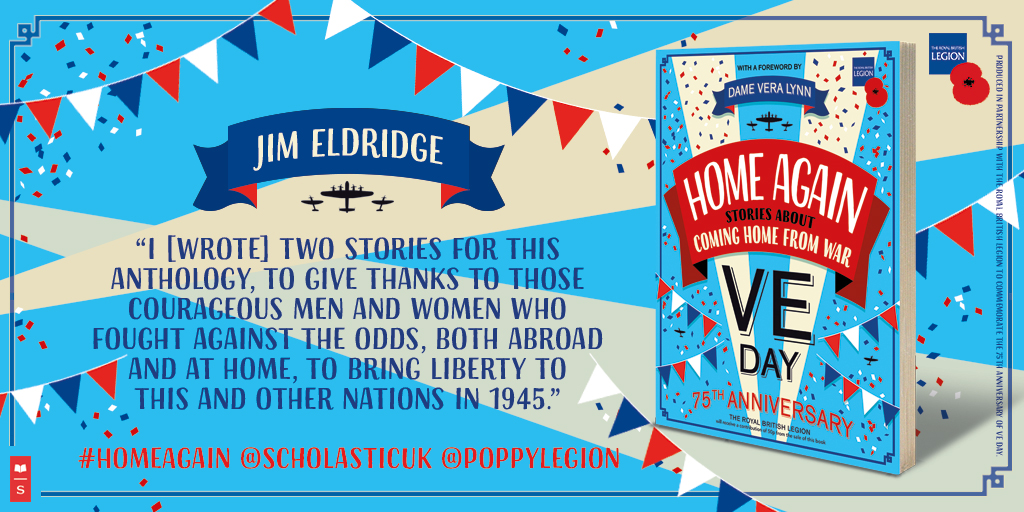 We have free activity packs perfect for home learning available online: Activity Pack
We also have a teaching resources pack for teachers looking to teach about VE Day, with distance learning alternatives: Teaching Resources
We also have a downloadable poster containing a timeline of the Second World War available online: Downloadable Poster
Similar Posts
Struggling to cope with school closures? Home educator Sherry-Anne Halliday talks us through her top tips for home educating your children.

Resource Bank presents our top 50 places to find the best teaching resources, in collaboration with Collaboroo!

J.A. White tells us all about Nightbooks. Alex is imprisoned by a witch and must tell her a new scary story each night, but soon, he'll run out of pages… Now on Netflix!
All categories