Empathy, imagination and children's stories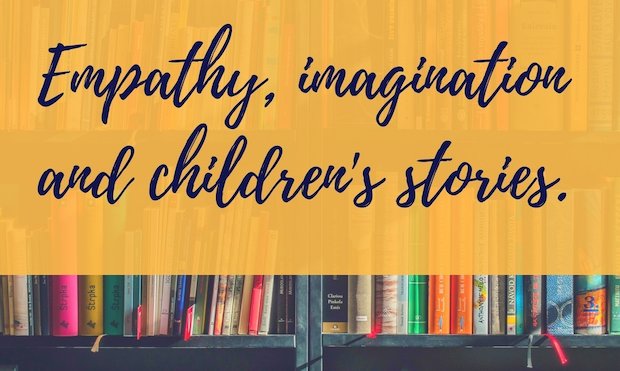 In lots of schools (and here is a cause to rejoice!) there is a renewed energy around the power of reading, and the benefits that can come about from children developing a real 'love of reading'. The idea that books are a good thing for children is hardly revolutionary, but what is certainly novel to me at least (no pun intended) is that so many teachers are now talking about children's storybooks in their staffrooms. Beyond the joy of reading for its own sake though, reading can be a vehicle for so much more. Reading can help teach children to empathise, to question things, and to imagine a different society.
It takes effort though. When we talk of fostering a 'love of reading', we speak of feeding a desire to read that goes beyond the watchful disciplinary eye and the raised eyebrows of the teacher in the classroom. Here, we are talking about children willingly choosing to switch off their PS4, and instead grabbing their well-thumbed book to find out what happens in the final pages of How to Train Your Dragon. We are talking about the sneaky torchlight under the bedcovers, as they desperately race through The Silver Sword. This is about kids keen for Monday to arrive, so they can tell their friends how Beowulf defeats Grendel.
As teachers, we may find ourselves looking to books to help teach about social issues, and to use fiction to help demystify what seems like an increasingly confusing and confused world. Whilst fiction can shock us, enthral us, thrill us and upset us, there remains that safe blanket of distance, however thin, that simultaneously insulates us from the grittiness of reality, whilst allowing us to tiptoe into more perplexing, difficult and challenging topics.
It is well documented that reading for pleasure is linked to the development of empathy in children and young people. Recent research by The Reading Agency highlighted the links between literacy and a boost in social capital; Jonathan Douglas, the Director of the National Literacy Trust described how it provides a blueprint to uncover 'how literacy transforms lives and can make society stronger'.
Anthony Browne's Voices in the Park is a text that grabs children's interest so immediately because of the complexity of its structure and illustration. Having taught with it today, the Year 3 children loved spotting the links between the four episodes, and just about every time I have shared this book, the pupils have spotted something new. In talking about the characters – an affluent and uppity mother and her sweet subdued son; an unemployed and disheartened father and his exuberant loving daughter – I suddenly notice that this chattering rugsworth of 7 year olds is exploring the nature of social class, inequality and urban life at a depth that wouldn't be out of place in a New Statesman article.
Some pupils can place themselves in different characters' shoes with ease. These pupils can take a nominally 'bad' or flawed character, and imagine a backstory which might explain their decisions. They can look at the way a character is described resting her hands in her pockets and decide whether this is contented hand-resting, smug hand-resting or anxious hand-resting. Reading, for these pupils, must be an incredibly rich experience, as their fertile imaginations transport them hither and thither.
Here is a confession – I wasn't that child. I read plenty of books – I could decode really well, I knew the trickier vocabulary (or could have a decent punt at it) and I would be able to answer basic comprehension questions about it. My difficulties were in the visualising of the stories. In my imagination, I was seeing the words themselves, not the things they brought to life for some of my classmates. Many pupils are in this situation.
Perhaps this is the necessary stepping stone to unlocking some of the most transformative power of children's stories? Without an ability to picture the happenings and the characters, we cannot expect children to easily connect with them at an emotive level.
Can we expect children's worldviews to be altered by the actions of characters who they cannot picture? Will they learn moral messages from a hare and tortoise they don't 'see'? Probably not.
The best children's stories have a persuasive energy of their own, but even this might not be able to hook in a disengaged, reluctant, distracted or struggling reader. Sometimes even a great book requires a teacher to breathe life into its pages, particularly when the stories take place in situations we, as readers, have not encountered. This could be tales in distant places, stories of grave hardship or surreal fantasy.
We can draw the parallels between these fictional worlds and our own. Through drama and storytelling, we can become the characters with whom they empathise. We can nudge pupils towards moral reflection, up to the point that they can achieve it themselves.
As teachers, we can use stories as the lenses through which we explore the highs and lows of social life; like a pair of binoculars, carefully chosen stories can allow us to gaze at life's complexities in great detail, but from a safe distance.

Here are my top five picks from the Scholastic shop to promote empathy through reading are:
Jonny Walker is an Assistant Headteacher at Park Primary School in Stratford, East London. He is interested in storytelling, reading, outdoor education and citizenship. Outside of teaching, Jonny enjoys binge-watching box sets with his cats, hoarding children's books, consuming hummus and occasionally summoning the energy to go canoeing.
Similar Posts
PM is the largest and most finely levelled reading programme in the UK, with a pedagogically sound, proven approach to making every child a successful, balanced reader. To help you to make the best use of PM resources, we…

Author and poet Paul Cookson went on tour to Northern Irish schools, performing his poetry and encouraging children to get into reading, writing and performing themselves!

Diagnosed with scoliosis at birth and contracting meningitis aged 5, life has been anything but ordinary for Kate Chandulal. As part of our 'Connectors' series, we're publishing Kate's story, 'A Walk In My Shoes', where…
All categories