Q&A with J.A. White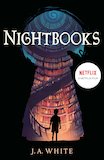 1. Welcome to the Scholastic UK blog! Can you describe

NIGHTBOOKS

in one sentence?
A boy is captured by a witch and has to write a scary story every night to stay alive!
2.

NIGHTBOOKS

has now been adapted into a hit Netflix movie. How does it feel seeing your work adapted for the screen?
In a word: surreal. I've always dreamed of becoming a published author, but I never imagined one of my novels would be turned into a movie. It just seemed like too much to hope for. Honestly, I've spent the last year convinced that the entire project was going to fall through at the last minute. Now that it's real, I mostly feel grateful. Not a lot of writers are lucky enough to have their work adapted to the screen, let alone so faithfully and so well.
3. What's your favourite part of the movie?
There are so many answers I could give here, from the acting to the fantastic score by Michael Abels. But the thing that really blows me away is the set design. The amount of detail and artistry that went into creating the world of the witch's apartment is just astounding to me. Every time I watch the movie I find some fun little detail I hadn't noticed before. The designs hidden in the wallpaper. The unicorn statue on the shelf. Even the dish towels in the kitchen have a story to tell!
4. Did you like reading and writing scary stories when you were a child?
I sure did! Just like Alex, I had black-and-white composition books filled with creepy little stories, usually with some kind of gruesome twist ending (I didn't call them nightbooks, but that's what they were). I always loved reading scary stories, too. When I was younger it was mostly fairy tales and Strange-but-True books, but I quickly made the jump to Ray Bradbury, Robert Bloch, and some horror anthologies that I probably shouldn't have been reading. I was in 4th grade when I sneakily read my dad's copy of
The Shining
. After that, there was no going back.
5. If you could invite three authors to a dinner party, who would you invite and why?
What a fun question! Stephen King, because he's provided me with more hours of pure reading pleasure than any other author (plus I got to meet him once when I was working at a bookstore in Boston, and he seemed like a genuinely nice guy). Assuming I'm allowed to invite authors who are no longer with us — and based on the kind of stories I write, that would definitely make sense — I'd also ask Arthur Machen if he'd like to drop by. He's not as well-known as he deserves to be, but he's written some of my favourite weird stories, and I'd love to see what he's like in person. And finally, I'd invite J.K. Rowling. Not only would she be able to answer all my annoying Harry Potter questions, but it would earn me massive dad points with my kids.
6. What books are you looking forward to reading in 2022?
I'm a huge fan of the mystery novelist John Connolly, who has also written some wonderful novels for children (including
The Book of Lost Things
, one of my all-time favourites). He usually releases a book a year, and I always snatch it up the moment it comes out. Other than that, it's truly hard to tell. I have hundreds of books sitting in our house, waiting to be read, so I usually grab whatever strikes my fancy. Lately, I've been moving through the mystery novels of Elizabeth George — my dad suggested her, and she's ridiculously brilliant. I've also made a solemn promise to read Philip Pullman's new
His Dark Materials
trilogy. The original trilogy is one of my favourites, and I've been re-reading them along with my son — I just haven't gotten around to the new ones yet.
7. What are your top tips for young aspiring writers?
Read, read, read! It's the most generic advice, but that doesn't make it any less true. You learn to write by studying the writers you admire — plus it's fun! I also like to encourage aspiring writers to create a writing schedule and stick to it. You should set aside a certain time each day to work on your craft, even if it's only for ten minutes. It's not enough to just write in school, though that's important too — you need to give your imagination free reign to create whatever it desires. That's how the best stories happen.
Nightbooks is on shelves and screens now!
Similar Posts
Author of The Switching Hour, Damaris Young, is taking part in our author Q&A this month!

Welcome back to our author Q&As! Today we're welcoming Sophie McKenzie.

Welcome back to our author Q&As! This month we're welcoming Kimberlie Hamilton.
All categories