Scholastic Introducing…
CYNTHIA MURPHY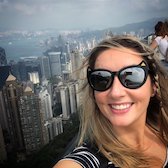 Scholastic Introducing…
Cynthia Murphy
, author of
The Last One To Die
.
"Scholastic Introducing" is a series of interviews with authors set to publish their debut books for children or young people in 2021. In this Q&A we introduce Cynthia Murphy, the author of YA horror-thriller
LAST ONE TO DIE
.
1. Tell us about Last One to Die
It's the story of a small-town Irish girl, Niamh, who is on a summer programme in London. Unfortunately, instead of the glitz and glamour she dreamed of, she is stalked through the city by someone (or something) with nefarious intentions…
2. What inspired you to write this book?
Last One to Die is my love letter to all of the horror books and movies I inhaled as a teenager. There was something about the thrill of being scared, but also be in control of what was causing that fear, that I loved – and still do! So I set out to write something scary and, most importantly, fun. It's a creepy little slice of escapism from the modern world.
3. Last One to Die has been described as 'point horror for the social media generation'. Were you a point horror fan?
Was I?! I adored Point Horror (in fact, I've started my collection again). I spent most of my teen years dreaming of being a cheerleader, eating peanut butter and jelly sandwiches and attending Nightmare Hall for university. One of my fondest memories was of visiting my local bookshop with my pocket money at the weekend and trying to find the thickest book for my £3.50. The staff would keep the new releases for me and once even bought me one, which really proves book people are the best people.
4. What's your favourite horror book, and why?
Well this question is just mean-there are so many! I'm going to be a massive cliché and go for Pet Semetary by Stephen King. I read it as a way-too-young teen and it terrified me – I had to hide it before I went to bed. I've re-read it as an adult with a totally different understanding and it's as horrific as I remembered – the grief and loss hits you in a different way. When King gets it right, he really gets it right.
5. What's the scariest film you've ever watched?
I'm a bit of a hard one to scare, as I constantly second guess the plot and who is going to die next, though I love a slow burn, anxiety inducing stream of events. My first memory of a horror film was my scariest…I was ten and alone in the living room, skipping through channels before bed. I stopped on something called 'A Nightmare on Elm Street' and a bloody body bag being dragged through a hallway…needless to say I screamed and hid my face in my hands. I couldn't watch the rest until I was an adult.
6. What do you want teenagers to take away from reading this book?
The most important thing for me is that they enjoy it, reading should be fun! Some of my favourite books have been thrill rides that I devoured in one sitting and couldn't tear myself away from and I hope I've created something similar to that.
7. What's your favourite YA book releases in 2020?
I devoured both Harrow Lake by Kat Ellis and Good Girls Die First by Kathryn Foxfield. They both had that feeling reminiscent of a really good teen horror movie and I couldn't put them down. I'm also excited for The Cousins by Karen McManus, as I have loved her previous books.
8. Any tips for aspiring writers?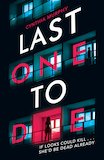 Keep going. Learn and invest in yourself – whether that's time to write, reading about the craft, taking a course, going on a retreat…you are the only person who can write your book. I really think the phrase 'write what you love' is important too – after eight years of trying, it's what finally worked for me!
Last One to Die by Cynthia Murphy is published in January 2021.
Similar Posts
J.A. White tells us all about Nightbooks. Alex is imprisoned by a witch and must tell her a new scary story each night, but soon, he'll run out of pages… Now on Netflix!

Rachel Pierce tells us all about her new book, Ireland: The People, The Places, The Stories, a stunning celebration of the rich culture and fascinating history of Ireland featuring ten Irish illustrators.

Welcome back to our author Q&As! Today we're thrilled to be welcoming Tracey Mathias to talk about her YA novel Silence is Also a Lie!
All categories