'The Snail and the Whale' comes to the stage
Exciting news for Julia Donaldson fans – this Christmas sees the West End arrival of the stage adaptation of 'The Snail and the Whale', a play with music inspired by the much-loved picture book!
Running from 30 November until 5 January at the Apollo Theatre, the production is presented by Tall Stories, the Olivier Award-nominated company behind the stage adaptations of 'The Gruffalo' and 'Room on the Broom'.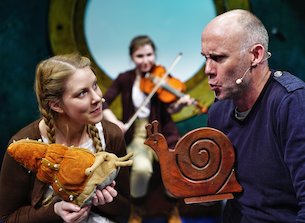 Julia Donaldson and Axel Scheffler's much-loved book 'The Snail and the Whale', has sold over 3.5 million copies worldwide and has been translated into 29 languages. It won the 2005 Blue Peter Award for 'The Best Illustrated Book to Read Aloud' and the 2007 Giverny Award in the USA. Julia Donaldson has called it, "Probably my favourite of all the books I have written for Axel Scheffler to illustrate." It is also being adapted into an animated feature, which will premiere on BBC One this Christmas.
The show invites audiences to join an adventurous young girl and her seafaring father as they reimagine the story of a tiny snail's incredible trip around the world. Longing to see the world, the sea snail hitches a lift on the tail of a great big, grey-blue humpback whale. Together they go on an amazing journey – but when the whale gets beached, how will the snail save him?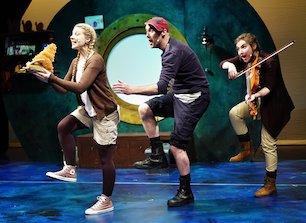 The production was influenced by the work of Storybook Soldiers, who help British military personnel serving abroad to record bedtime stories for their children back home. Inspired by this scheme, the telling of the story features a faraway dad who records his own version of 'The Snail and the Whale' and sends it home to his daughter, who would much rather be travelling the world with him. Brought vividly to life through live music, storytelling and lots of laughs, this is guaranteed be the family Christmas show of the season and not to be missed!
Suitable for ages 4+. 30 November until 5 January. Apollo Theatre, London. For further information and tickets, click here.
Similar Posts
Devon Holzwarth tells us all about her new book, Sophie's Stories, where you will be whisked away into a magical celebration of bedtime stories.

Catherine Jacob tells us all about her new book, Betsy Buglove Saves the Bees. A gorgeous picture book beautifully illustrated by Lucy Fleming.

Alex Latimer tell us all about his new book, Pip & Egg, the most adorable book about the power of friendship with beautiful illustrations by David Litchfield.
All categories