Scholastic Literacy Pro
Assess, motivate and measure reading progress
Scholastic Literacy Pro™ combines assessment and reading motivation to raise reading standards at pupil, class and whole school level. Bringing together carefully levelled children's books with a computer-adaptive test to measure a child's reading level, Scholastic Literacy Pro™ is a reading management programme that includes thousands of quizzes to monitor and assess independent reading.
"Reading Pro* allows us to make informed recommendations for children in terms of selecting texts from the library; it measures their progress in a way which is easily monitored without any teacher marking." – Alice Fisher, Head of English at Westbourne House School, England
* Scholastic Literacy Pro™ was formerly known as Scholastic Reading Pro.
Using the Lexile® framework to measure both readers and texts on the same scale, Scholastic Literacy Pro™ is uniquely able to recommend the right book for the right child at the right time.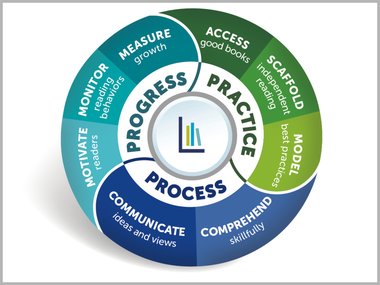 Circle of Reading Success | Making reading joyful and powerful
Reading is the gateway to academic success and discovery, and a vital means of preparing for the future. Scholastic Literacy Pro™ is a powerful, easy-to-use literacy platform that
measures and monitors reading progress using proven assessments
opens up a world of stories and knowledge to every pupil
motivates pupils to read with deep comprehension and joy through a personalised bookshelf, interactive quizzes, and progressive awards.
Practice
Independent reading is an essential practice

"There's no such thing as a kid who hates reading. There are just kids who love reading, and kids who are reading the wrong books. We need to help them find the right books." – James Patterson, award-winning novelist and founder of Read Kiddo Read.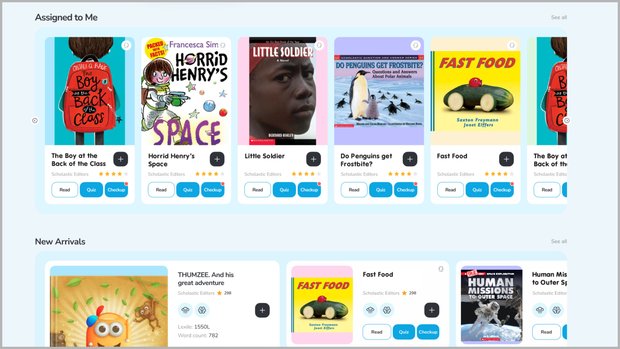 Your pupils' personalised bookshelf provides access to thousands of authentic and diverse stories and non-fiction texts that they will want to read. Literacy Pro's™ proprietary smart engine keeps each pupil's bookshelf refreshed with books that they can read with enjoyment and deep comprehension.
Many of these titles can be found in Literacy Pro's™ online library which uses the unique Library Match feature to identify books in your school library that pupils will enjoy. Literacy Pro™ ensures that every pupil gets the right books into their hands every time.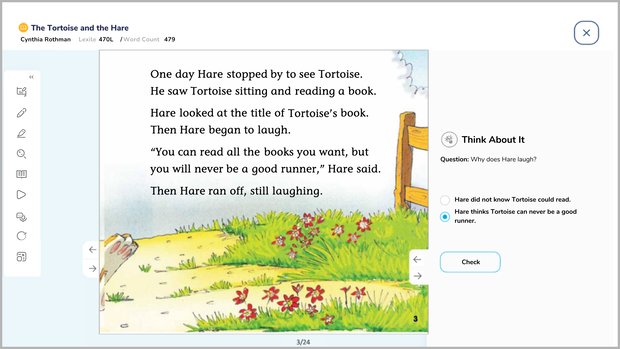 Using embedded Read & Think questions, Interactive Read-Aloud lesson plans and other resources, you can scaffold and support pupils' independent reading skills to encourage deep comprehension.
There are 999 books in Literacy Pro's™ eLibrary – 240 include Interactive Read-Aloud and 306 are enhanced with Read & Think scaffolds to help pupils on their reading journey by modelling and supporting behaviours of successful, confident readers. Lesson plans, downloadable worksheets, and activity ideas offer further support for beginner readers.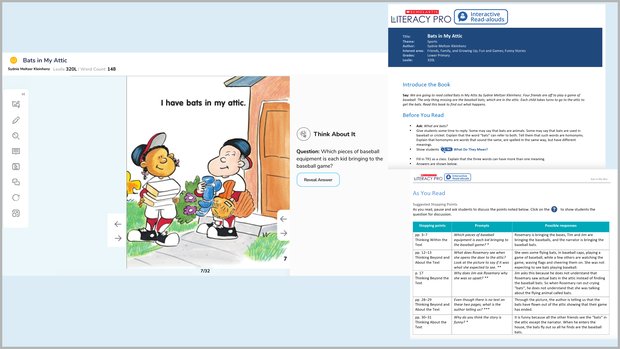 Model effective reading behaviours by using point-of-use teacher resources to carry out engaging Interactive Read-Aloud lessons. Featuring embedded lesson plans and worksheets, Literacy Pro's™ Interactive Read-Aloud resources capture the interest of all readers, and they're perfect for whole class or small group discussions. 
Process
Mastering the process of reading
Reading goes beyond simply decoding words on a page. It is a process that requires active engagement with the text, enabling comprehension and facilitating effective communication.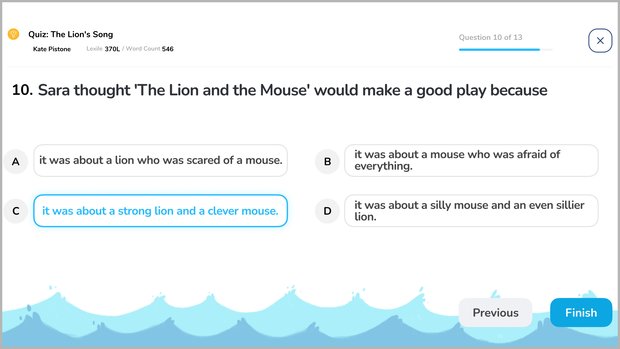 Pupils can develop effective comprehension skills by using the 15,000+ quizzes that cover thousands of bestselling books from Scholastic and other publishers. These quizzes provide them with the opportunity to think about what they've read and demonstrate their understanding of the text.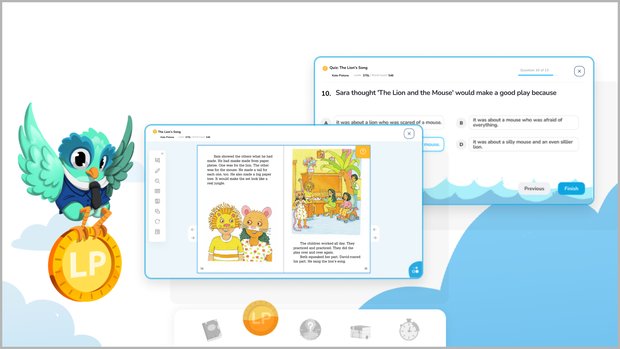 Literacy Pro™ provides point-of-use opportunities for pupils to communicate their ideas and views through a variety of different channels. They can talk to their teacher through our embedded teacher-pupil eBook messaging feature, express their opinion by writing book reviews, and award star ratings which can inform the reading choices of their peers.
Progress
Supporting every pupil's progress towards reading success
Scholastic Literacy Pro™ makes it easy to measure pupils' reading comprehension, monitor their progress towards specific achievement goals, and motivate them to hit their reading targets.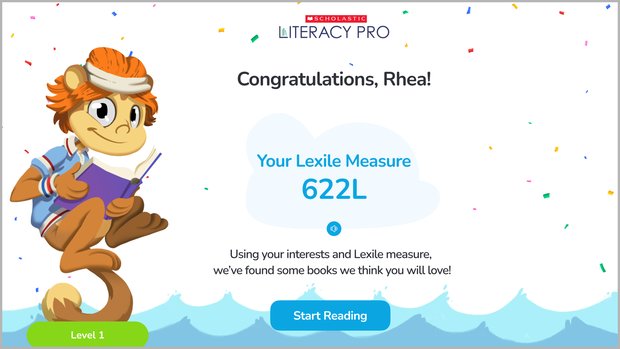 Measure your pupils' reading progress and comprehension with accurate, easy-to-use assessments that identify reading ability, skills, and growth through a suite of reports.
The LitPro Test provides an objective and independent measure of reading progress against customised benchmarks, individual goals, and normative data. Literacy Pro's™ reading skills assessment measures pupils' competency across 10 key comprehension skills including summarisation, comparison, and contrast.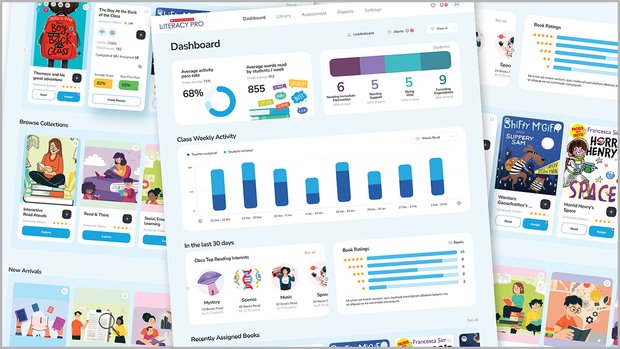 Monitor pupils' reading progress using data-driven reports and dashboards. Literacy Pro™ offers a seamless experience that allows you to assess, assign, track, and monitor your pupils' progress, all on one easy-to-use platform.
Real-time alerts on the administrator, teacher, and learner dashboards are co-designed with educators to help you understand each pupil individually so you can tailor your support to suit them.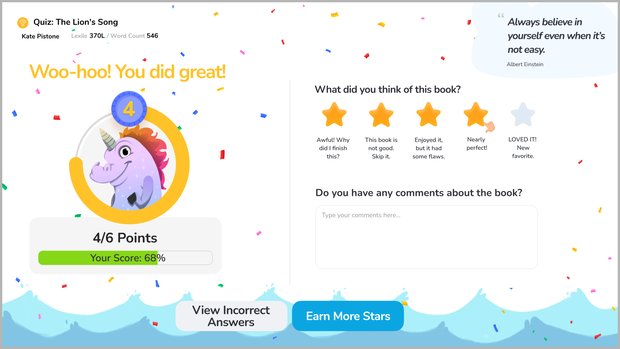 Motivate pupils' reading journey with engaging elements including customised avatars, incentives, and rewards.
Literacy Pro™ is designed to help pupils discover the joy of reading through the thrill of succeeding. The programme is built to ensure that they receive consistent reinforcement and are celebrated for their accomplishments through a variety of badges, awards, and certificates. Teachers can also recognise a pupil's positive behaviour with customised rewards to ensure every child feels motivated to achieve their goals.
---
Support Centre
literacypro@scholastic.co.uk
Frequently Asked Questions
Our FAQ section comprises a complete selection of the most frequently asked questions.
Contact us
---
---
---