Keep Reading Week 4: Marge in Charge
Our Spring Book Club has officially arrived and this time round, we want you to #KeepReading with us!
Our World Book Day club saw children all over the country pick up books and get stuck into the reading and we would love to keep that going. So, for this Club, we want you to join us as we #KeepReading.
Every week, we'll be sharing a mini-review of a book we've read from the Spring Club on the blog and we'd love it if you read along with us. Over the next five weeks, we'll be reading a different book from the latest selection, and sharing a short review of what we thought of it. We'll be sharing our thoughts here, and on our Facebook, Twitter and Instagram.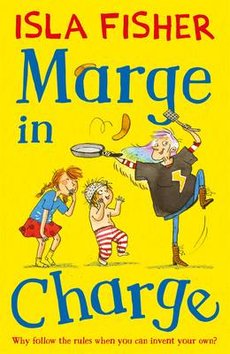 It's week 4 of our #keepreading campaign and today we're reviewing Marge in Charge by Isla Fisher!
Eva and Isla are best friends and they read Marge in Charge together. Watch the video below now to see them talk about why they loved this set of three laugh-out-loud stories so much.
Marge is a babysitter like no other, whipping up magical mayhem – and chocolate soup for lunch! You probably think you're too old for babysitters. But here's the deal: no one's too old for Marge. (Never, ever tell your parents how much fun she is, or they'll want to hang out with her too.) Marge has hair all the colours of a rainbow, and she's all about making you laugh and bending the rules! At school, Marge conducts a crazy playground concert. In the kitchen, she cooks up a yummy chocolate soup. How much fun can YOU have with Marge before Mum and Dad get home?
What books get your children giggling? If you want to find out why Eva and Isla love Marge in Charge so much, grab your copy of the book here.
Join the Spring Book Club now and read along with us – browse the full range of books available here.
Similar Posts
Our Spring Book Club has arrived and we want you to #KeepReading with us! So, for this Club, we invite you to join us in sharing a new book each week and reviewing it together to #KeepReading.

Our Spring Book Club has arrived and we want you to #KeepReading with us! So, for this Club, we invite you to join us in sharing a new book each week and reviewing it together to #KeepReading.

On 6th September, illustrator Nicholas John Frith won the inaugural Klaus Flugge Prize for the most exciting newcomer in children's picture book illustration, for his book Hector and Hummingbird. A tale of an unlikely…
All categories